Site Contents – as you scroll down
(1) About our SIG
(2) Time for a drive – our first gathering
(3) Boxster creation story
(4) 356-001 as The Beginning
(5) Our Finnish connection
(6) Our cars
(7) Our experiences
About our SIG . . .the best yet to come
Our site evolves in response to our special interests. First and foremost: a meeting place for the most enthusiastic Boxster enthusiasts in the Upper Canada Region.
We're the stars of this show, so an owners' directory will anchor ever-changing content pertinent to the 986/987/718. Scroll to the bottom for a look.
This site should get us talking. What else should a SIG facilitate? Should we try meeting for coffee, organizing drives, getting together at lapping days or races, rallying at a pub to get through winter?
Email your thoughts and we'll see where this Pure Porsche SIG takes us. Always remember: our Boxster is the essence of Ferry Porsche's initial vision of sports car perfection.
TIME FOR A DRIVE (AT LONG LAST)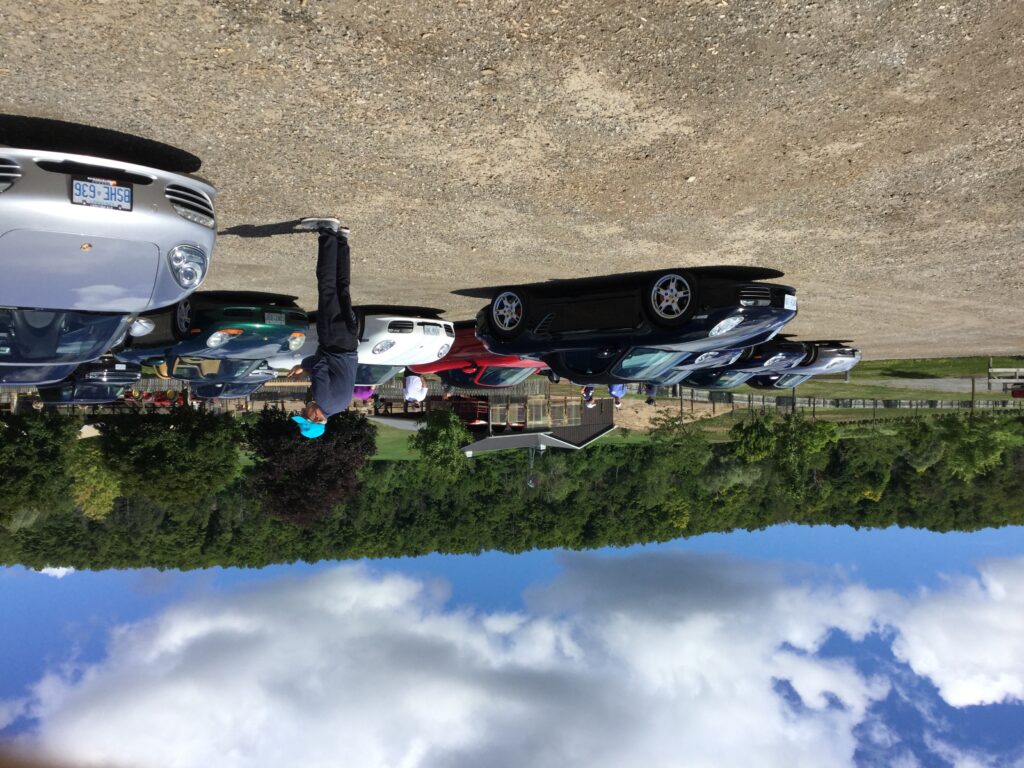 By Peter Bleakney
Living in Oakville, I've found some pretty decent roads just north of this area, so when Boxster SIG head honcho (guru, organizer, commander in chief, all-knowing grand poobah) Dan Proudfoot approached me about mapping out a route for a possible summer run, it set the wheels in motion.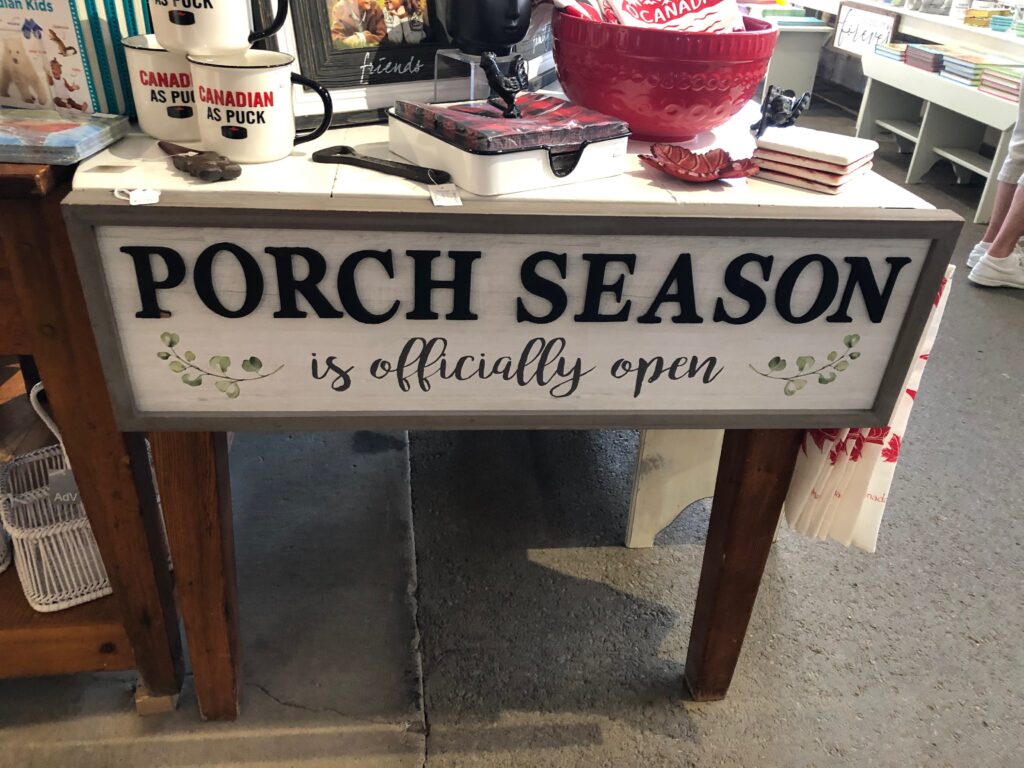 I came up with a 75-km route that consisted of scenic winding and mostly tree-lined roads that wended their way from Oakville to the town of Kildbride, up to Campbellville, down a snake-like stretch of Appleby (see note at end of story for elaboration) and eventually arriving at our lunch stop at Springridge Farms.
Dan put out the call and we had over 30 Boxster-istis responding. The 'launch' was the morning of August 18 at a Tim Hortons just north of the QEW – and 13 cars showed up, including a posse from London rounded up by Christina Mandri.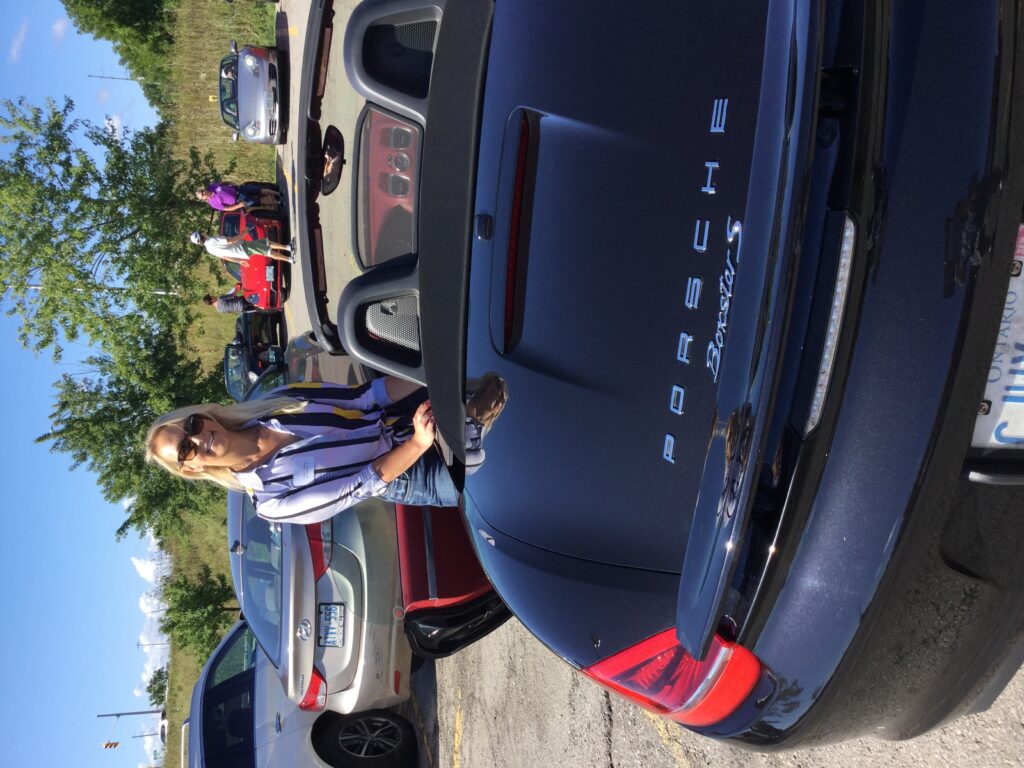 The gods of top-down motoring were smiling that day. Considering what a baking hot and humid summer we had been having, this Tuesday blessed us with relatively cool air along with a slight haze which cut down on those UV rays.
What a site this convoy was, spanning from the 986 to the current 718, with a couple of 911's thrown in! Or, as Dan called them, "future Boxster owners."
Part way through the trip I swapped cars with fellow 2001 Boxster S owner Craigg Ballance. With both cars having about 130,000 on the clock, interesting to feel the differences between the two.
After our bucolic tour that included many turns, lotsa gear changes and more than a few cows (witnessed, not hit) we rolled into Springridge Farms's big parking lot for some snacks and conversation. The route ended up being a big hit with all participants. Success!
It's a great destination for fresh produce, amazing baked goods, preserves, yummy sandwiches, folksy knickknacks. There was one sign – the one in the picture near the beginning of this story – I was pretty sure someone would have snatched up! Okay, they spelled Porsche wrong, but nobody's perfect!
ABOUT THAT SNAKE-LIKE STRETCH . . .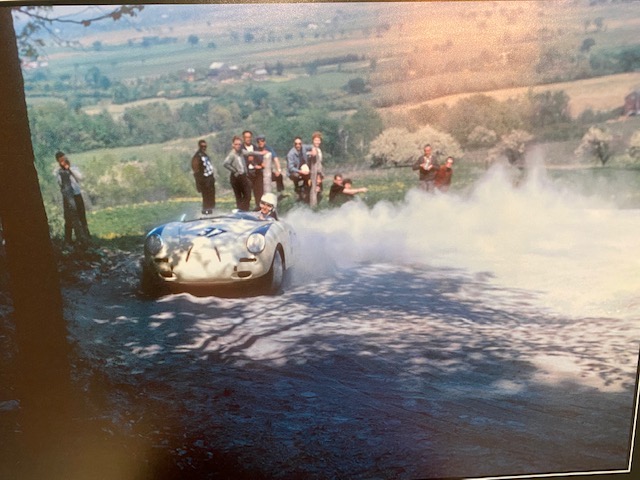 We descended down the road competitors raced up in the Rattle Snake Hill Climb, a major event for sports car enthusiasts beginning in 1950. One big difference: It was gravel back in the day.
As we made our way down, Ted Youngs spotted the very place he picnicked 60 years ago watching the cars making their runs
And the fellow with whom Ted caught rides to BEMC meetings after moving to Toronto, Ian Sword, was fastest in his Aston Martin DB2 in 1955. Porsches were dominant 1960-64, driven by Klaus Bartels and Horst Kroll, who'd wrap up his long career as champion of the final Can-Am series.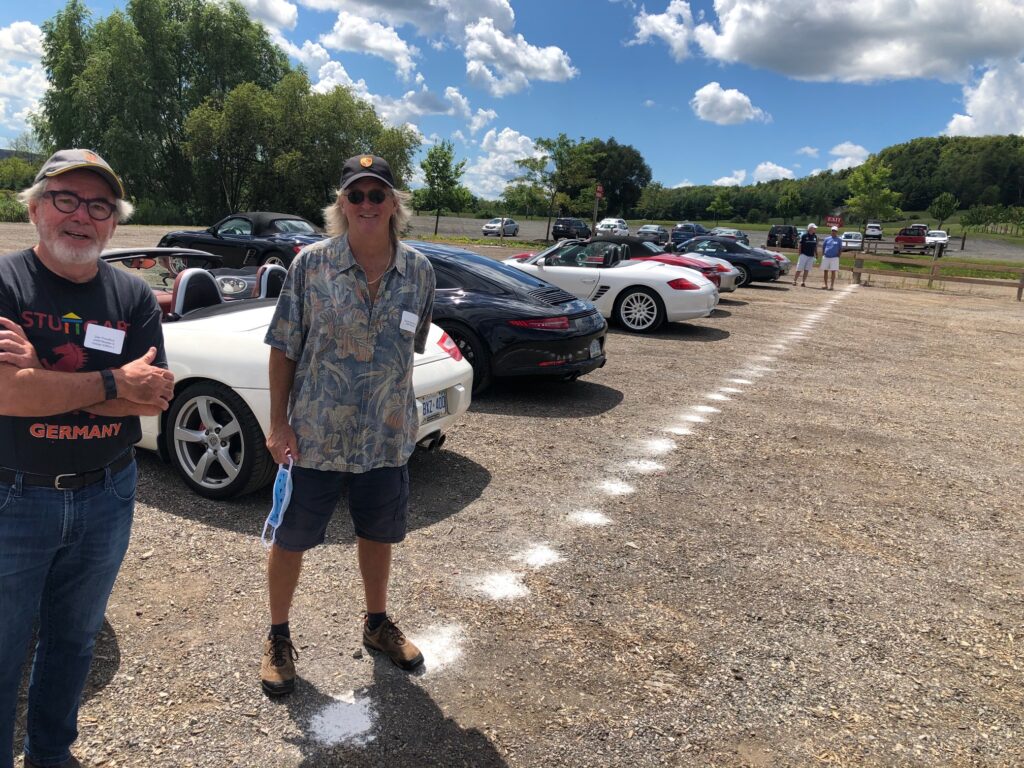 PHOTO CREDITS, cars at Springridge and Christina Magri, by Ted Youngs; Horst Kroll in his 356 at speed, by F. David Stone; Dan Proudfoot and David Johannesson and their pandemic hair, by Peter Bleakney.
HOW THE BOXSTER CAME TO BE
OCTOBER, 1991: After taking in the Tokyo Auto Show, Harm Lagaay faxes his design staff. Tokyo's astonishing array of concept cars prompts the head of Porsche Style to challenge his designers to conceive a game-changing Porsche concept.
EARLY 1992: Of four proposals, Grant Larson's is selected to be crafted as Porsche's show car for the 1993 North American Auto Show at Detroit's Cobo Hall.
Larson, then 34, had grown up in Wisconsin with the 1968 Dodge Charger a personal fave. But his eyes were opened to European design at the Art Centre in Pasadena, followed by a first job at Audi and a move to Porsche in 1989.
A polished aluminum Porsche 550 – or was it a RS 60, in retrospect he wasn't sure – had captured Larson at the Old-timer Grand Prix at the Nurburgring. "I photographed the heck out of the car . .. and it was always in the back of my mind," he told John Lamm, the Road & Track staffer who wrote the excellent book, Porsche Boxster, for Motorbooks Color Tech.
SPRING, 1992: CSC, the name favoured by Porsche's board of directors standing for Concept Sports Car, isn't sufficiently catchy for the designers. Steve Murkett suggests 'Boxster' in a brainstorming session "just to show I'm crazier than the rest." Larson isn't in favour but Lagaay is – and he's the boss. Done.
LATE 1992: As the show car nears completion for its Detroit debut in the first week of January, Lagaay convinces management the 986 production car should be based on it, although the three competing design proposals also have continued in development.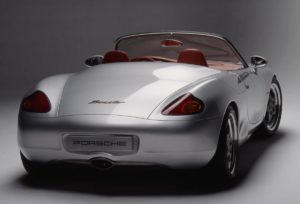 JANUARY, 1993: Your reporter attends the Detroit show reporting for The Toronto Sun, but my interest isn't entirely professional. I've owned a 356B since 1969. Anything new from Porsche excites me.
The Boxster steals the show. It pulses with Porsche history. It's a sports car like no other. And it's to sell for less than $40,000 USD.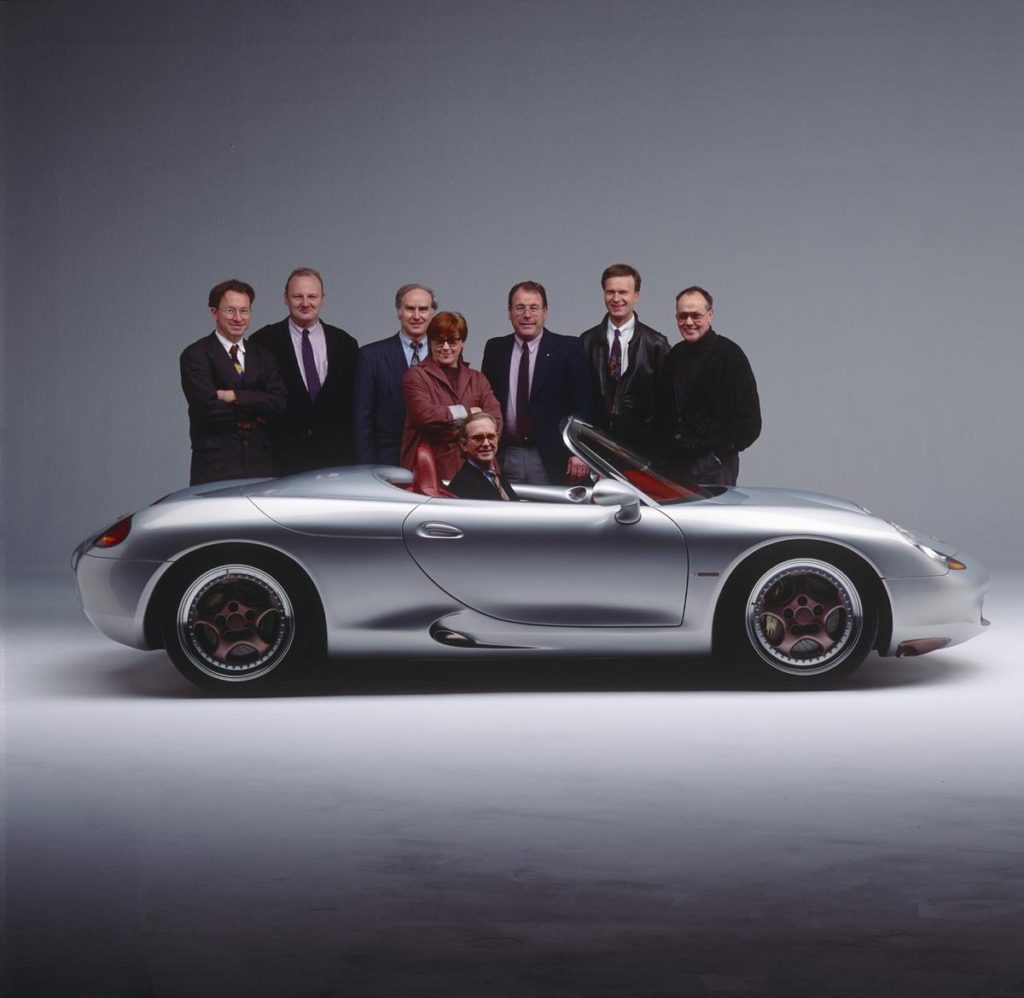 DECEMBER, 1994: Development for eventual production continues. Worth noting, Christmas comes early for Grant Larson – a five-hour drive in a Boxster prototype, riding shotgun with a test driver checking out winter capability.
"This was one of those nasty matte black test mule cars, but it was the very first time I could sit in the car when it was a running prototype," Larson explained, adding he couldn't believe how very light it felt.
MID-1996: A year and a half after Larson's ride in the prototype, production begins in Zuffenhausen (following pilot production late in 1995). The car has grown nine inches longer, two inches wider and taller than the Detroit concept, but it's proportions are as thrilling.
WINTER, 1997: The North American media intro is held at Phoenix International Raceway. Anticipation has been building for four years.
My first impressions from lapping the tight PIR road circuit and an extended drive on two-lane highways: just as Larson observed, it's so very light, so agile. The steering feels alive, the 2.5-litre six soars above 4,000 rpm. The seats a perfect fit. Love is in the air.
JULY 26, 1997: A week with the car on loan from Volkswagen Canada confirms all of the above. Its base price in Canada is $56,600, and $62,437 as tested. "If ever you wonder whether a Porsche is worth the price, try this simple personal test," my Sun review proposed: Take a five-minute drive in a Boxster, "then you'll know."
SEPTEMBER 3, 1997: The Zuffenhausen Werkes cannot satisfy demand, so Porsche contracts supplementary production at Uusikaupunki, Finland. Valet Automotive is to produce 5,000 Boxsters annually, but the order is soon doubled.
IN HINDSIGHT, MAY 3, 2018: Hagerty's magazine reflects on the Boxster's significance, 25 years after its Detroit debut. "The 1993 Porsche Boxster was the concept that saved the brand," the story is headlined. With 911 sales slumping Porsche had been at risk of a takeover; the Boxster and the next-gen 911 that shared many of its parts as well as the liquid-cooled motor, returned the company to robust health. Next up: the Cayenne.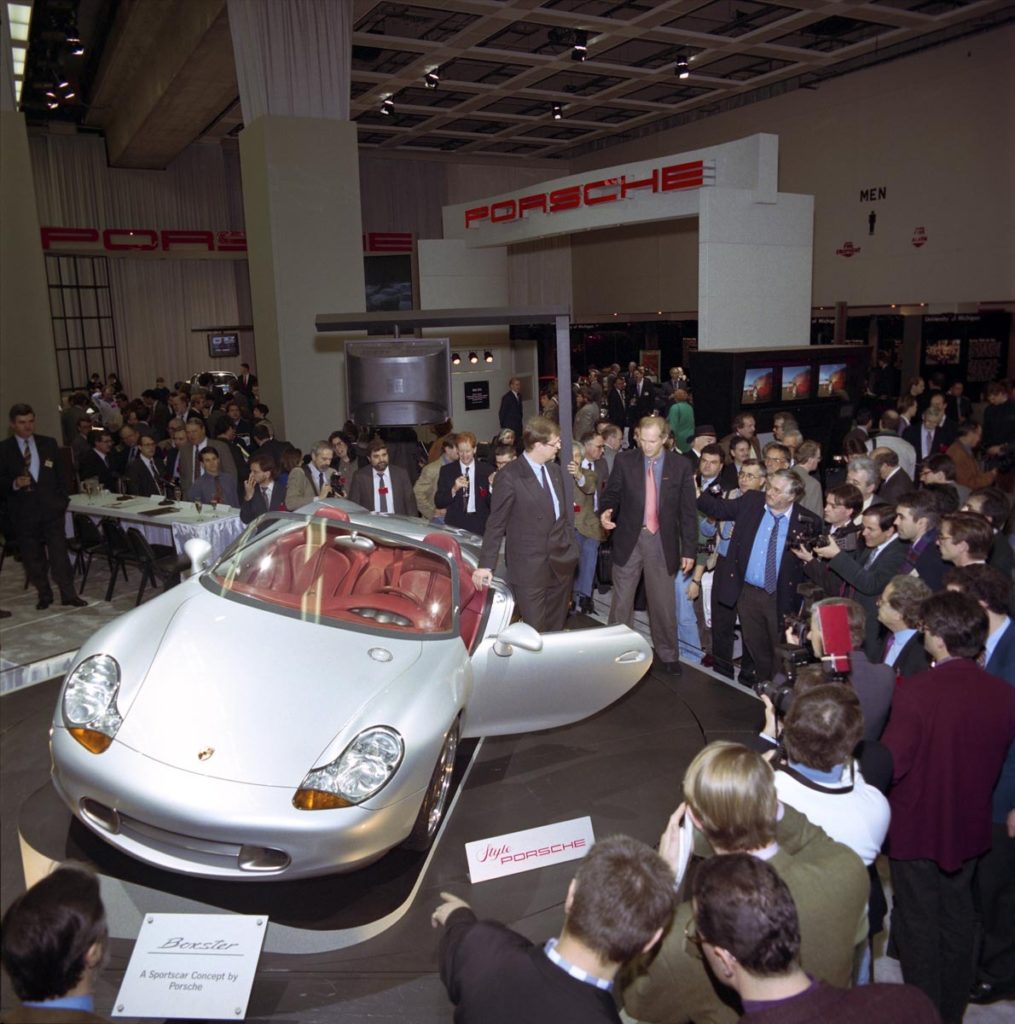 Why Pure Porsche?
356-001 begins the story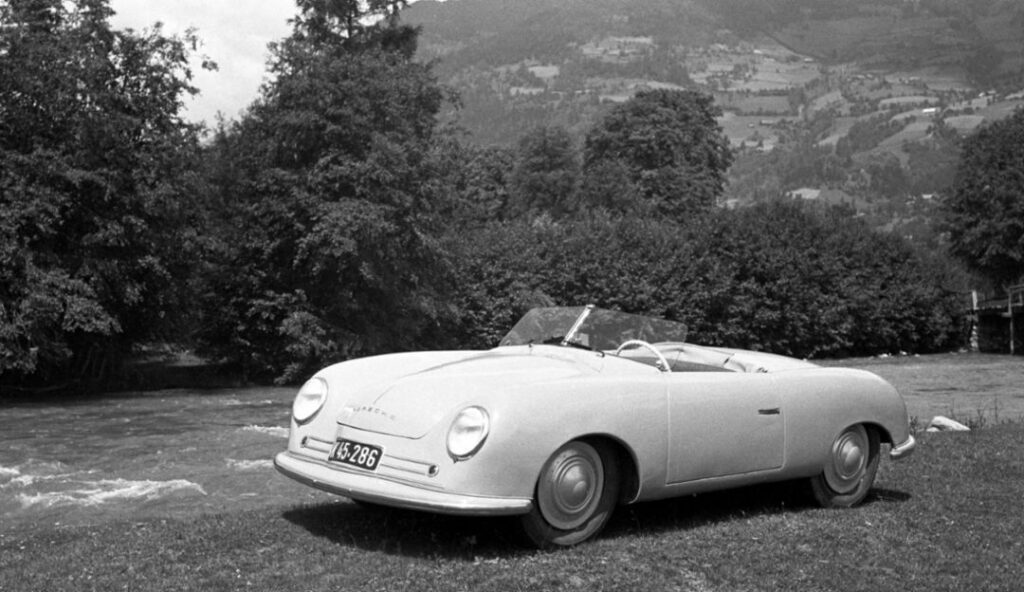 On June 8, 1948, Porsche completed the first car to bear its name, the 356-001 prototype.
With it Ferry Porsche sketched a dream that ultimately would be realized with the Boxster, unveiled as a concept car 45 years later.
Mid-engined, seating two, light weight – these were the basics of the car Ferry and long-time engineering associate Karl Rabe began planning in 1947.
Admittedly the Volkswagen-Porsche 914 of 1971 was a closer approximation to that vision than our Boxster, because both were powered by Volkswagen engines chosen for their low cost.
But the Boxster stands as the more fully realized, 21st century expression of Ferry Porsche's vision.
What shaped that vision? Start with Piero Dusio, who had made a fortune outfitting the Italian army during WW2.
In February, 1947, Dusio's Cisitalia (Compagnia Industriale Sportive Italia) engaged the Porsche engineering bureau to design a world-beating formula race car. So rich was this contract, it financed both Ferdinand Porsche's release from prison in France and Porsche's move from engineering consultancy to auto production.
When Ferry and Rabe visited the Cisitalia works in Turin, Italy, on the race car project, they saw what Dusio was already achieving by combining tube frame chassis and Fiat motors and suspension parts.
The Italian's concept of elegant coachwork enclosing inexpensive components was exactly what they had in mind for their own car, but far closer to realization.
As Karl Ludvigsen tells the story in his landmark history, PORSCHE: Excellence was Expected, project Type 356 officially began on July 11th, 1947, for a two-roadster based on Volkswagen parts.
Drawings of the frame and body were completed on July 17th. The wheelbase was anticipated to be 82.7 inches, the dry weight 1,220 pounds. As with the Boxster almost half a century later, the finished product would be larger: 84.6 inches and 1,330 pounds.
The prototype ran under its own power for the first time in March, 1948. Hand-built in Gmund, Austria where the Porsches had located during WW2 to escape the bombing of Stuttgart, Friedrich Weber had hammered the body panels into shape in only two months following Erwin Komenda's design drawings.
In the last week of May, 1948, 356-001 began extensive testing on public roads with Ferry Porsche deeply involved. In fact he was at the wheel when 001's rear suspension failure ended one endurance run up the Grossglockner Pass.
Why June 8 became acknowledged as the date marking the car's creation is unclear. Ferry Porsche, in the book he wrote with Gunther Molter, Cars Are My Life, stated 356-001 was completed June 8th – so it may have been as simple as the boss signing off on the project.
The public debut followed almost a month later. In the last week of June 356-001 was driven from Gmund to Bern, Switzerland, where a car dealer had arranged for prominent journalists to drive the new Porsche prior to the Swiss Grand Prix, July 4.
The journalists gave 001-356 rave reviews. But Ferry decided against putting it into production. He judged its tube-frame construction too expensive and anticipated a coupe would have wider appeal.
Again, Piero Dusio's influence may have been in play. The stunning Cisitalia 202 GT coupe unveiled at the 1947 Paris Auto Show, the 202 GT, had been a sensation. Erwin Komenda's 356 coupe, then under development several steps behind 356-001, rivaled the Cisitalia 202 GT but could be manufactured at much lower cost.
Events proved Porsche correct. The Cisitalia 202 GT failed despite its classic beauty because its tiny Fiat engine couldn't justify its high price. Of a planned production run of 500, only 170 were made between 1947 and 1952. Whereas, the Porsche's 356 coupe's sales were in ascendancy over its first five years.
Porsche might have manufactured the roadster as well as the coupe, but breaking even took precedence. A production 356-001 would have sold in lower numbers, likely at a loss, even as its mid-engine and tubular frame reinforced Porsche's reputation for advanced engineering – as the 550 race car, the direct inspiration for our Boxster, would beginning in 1953.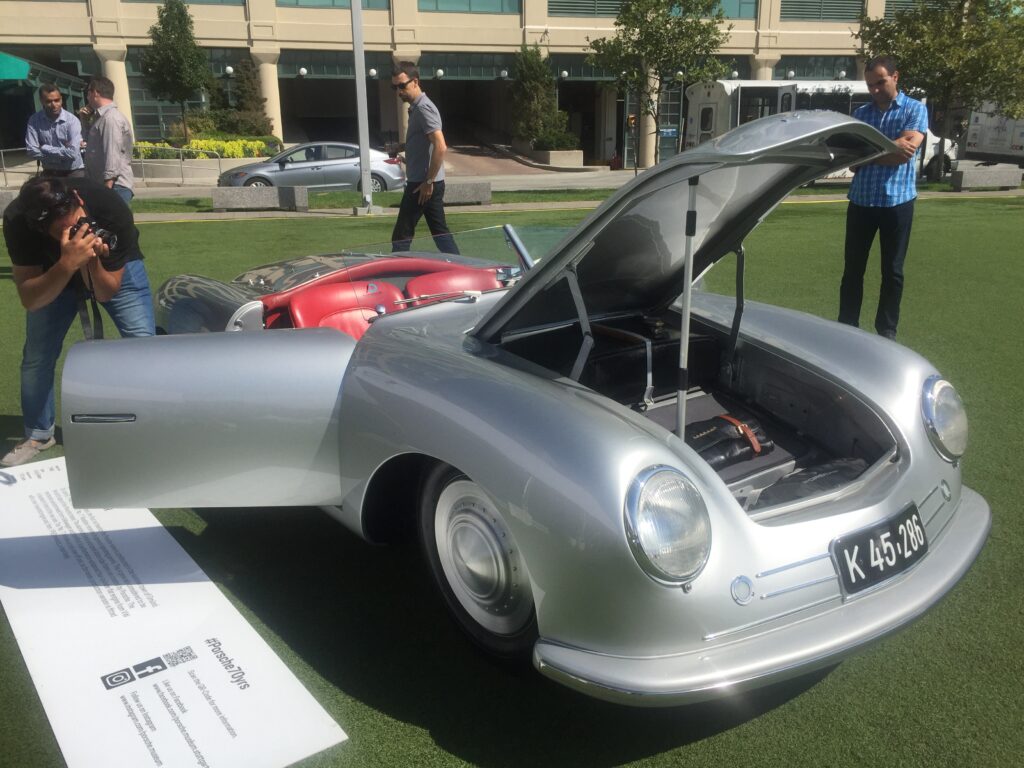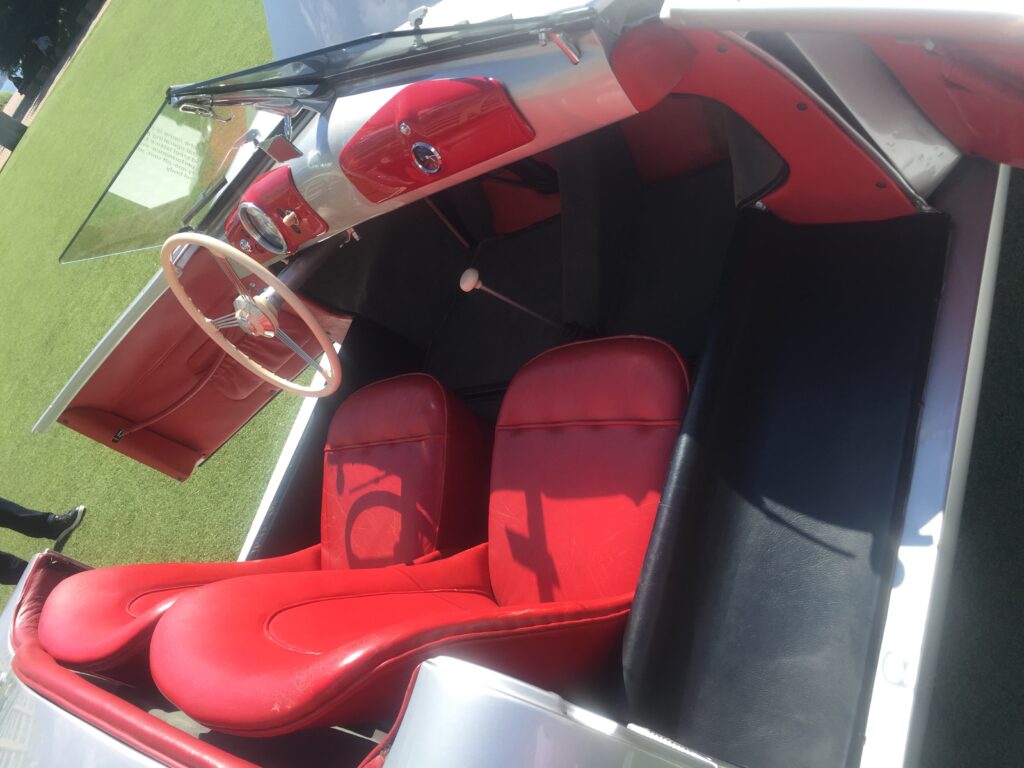 DOES YOUR ANCESTRY TEST MAKE ANY MENTION OF FINLAND?
If 'U' appears as the 11th digit in your windshield VIN plate, then a rousing ONNEKSI OLKOON! for this signifies your Boxster was made in Uusikaupunki.
Who knew?
I'd assumed mine was born in Zuffenhausen, the district on the northern edge of Stuttgart where Porsche began series production in 1950. Of course we've all heard how Porsche had subcontracted some Boxster production to Finland. . .But surely mine was German.
If 'U' appears as the 11th digit in your windshield VIN plate, then a rousing ONNEKSI OLKOON! for this signifies your Boxster was made in Uusikaupunki.
Who knew?
I'd assumed mine was born in Zuffenhausen, the district on the northern edge of Stuttgart where Porsche began series production in 1950. Of course we've all heard how Porsche had subcontracted some Boxster production to Finland. . .But surely mine was German.
Now I know better. Now I know ONNEKSI OLKOON! (meaning Congratulations! in Finnish) could serve as this PCA UCR SIG's secret password because most Boxsters exported to North America prior to the 2012 model year were assembled in Uusikaupunki.
Valmet Automotive manufactured 227,890 Boxsters and Caymans beginning in the autumn of 1997, the first off the line on Sept. 3 and the last May 2, 2011.
The breakdown: 109,213 of the 986-series Boxsters, 58,264 of the 987 (including mine), 59,413 Caymans.
Even so, do not anticipate PCA organizing tours to Uusikaupunki, like those to Stuttgart Zuffenhausen, any time soon. Exhilarating as this city of 15,500 on the Baltic Sea may be – with its remarkable one-km ski tunnel open year-long and many summer festivals – the sole remaining connection to Porsche may be the Boxster in the Uusikaupunki Automobile Museum once owned by Juhani Linnoinen, chief executive officer of the car plant.
It's a Mercedes-Benz town now. In the wake of Porsche repatriating Boxster/Cayman production in 2012, Valmet Automotive began manufacturing the Benz A-Class. Last year 114,000 A-Class and GLC vehicles emerged from the Finnish plant, dwarfing previous Porsche production numbers.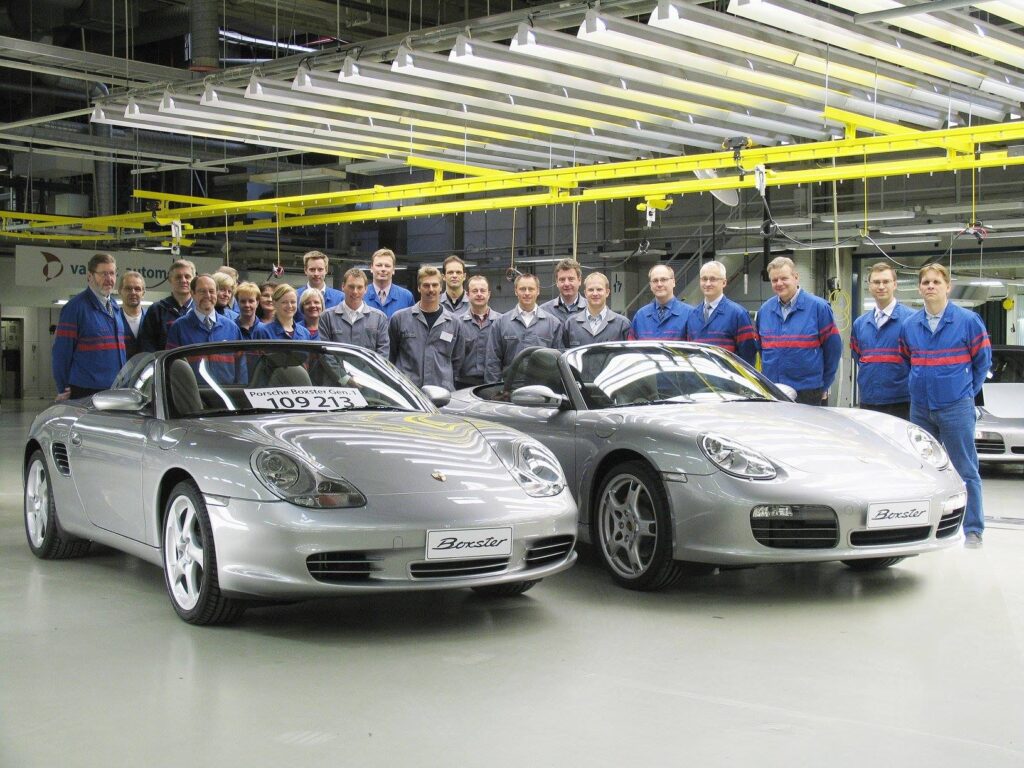 It seems most high-end buyers no longer care where their vehicles come from. Not so long ago BMW owners feasted on the acronym standing for Bayerische Motoren Were, Bavarian Motor Works, believing high performance engineering was as much a part of Munich as Oktoberfest. Jaguar owners made pilgrimages to Browns Lane, Coventry, England.
Consider this: how many Cadillac Escalade owners know their vehicles were manufactured in Arlington, Texas, along with GMC Yukons and Chevy Tahoes, all three basically the same save for badging and interior decor? Do BMW sport-ute buyers around the world trace their vehicles to Greer, South Carolina, rather than Bavaria?
Corporate alliances further blur the picture. Does the Toyota Supra buyer realize there's a BMW engine under the hood? Or the proud owner of today's BMW Z4 know how closely related it is to the Supra? That Magna Steyr, operated by Canada's Magna International, manufactures both Toyota and BMW sports cars at Graz, Austria – along with the Jaguar I-Pace and E-Pace, Mercedes-Benz G-Class and some BMW 5-Series.
Porschephiles still may care more than most.
Whether a Porsche made anywhere other than Stuttgart Zuffenhausen is truly a Porsche, became a sticky question in the 1970's when the 914 was manufactured by Karmann in Osnabrük and became even stickier in the 1980's when Audi built the 924 in Neckarsulm, both German cities but not the fountainhead.
Hindsight instructs us that the real issue with these Porsches was not where they were manufactured, rather what was under the hood. Their engines were made for sedans, not a sports car, let alone a Porsche. They ran out of puff far from redline, their exhausts snored.
The 914's 1.7-litre pushrod motor was sourced from the Volkswagen 411, the 924's 2-litre from an Audi. (What's more, American Motors used the same Audi engine in carbureted form in its Gremlin.)
However conflicted Porsche may have been over its budget-driven choice in motors, it was completely comfortable with assigning production.
Porsche had engaged independents from early days. A decade before the 914 Karmann produced a hardtop version of the 356 that accounted for 1,047 sales in 1961-62. In the case of another 356 variant, the Convertible D, the 'D' represented Drauz Karosserie of Heilbronn, West Germany. Belgium's D'leteren Freres crafted the last 'twin grille' 356 convertibles.
The inspiration for our Boxster, the 550 that established Porsche's name in racing beginning in 1953, was bodied by Wiedenhausen of Frankfurt, then by Karosseriebau Weinsberg, later Wendler near Stuttgart. No one questioned whether the 550 was a 'real' Porsche; the 550 epitomized the brand.
Remember, the Porsche Mercedes-Benz
Significantly, Porsche itself manufactured another brand's car, the Mercedes-Benz 500 E of the early 1990's. This came about as a consequence of Porsche developing its contract engineering division to generate much-needed revenue to compensate for flagging sales of the 911, 968 and 928.
M-Benz engaged Porsche's Weissach engineers to develop a performance version of the W124 E-Class sedan using the 5-litre V-8 from the 500 SL roadster. When Weissach's 500 E fenders were found to be too wide for the Benz line at Sindelfingen, Porsche took on the hand assembly of the model in its Rossle-Bau Zuffenhausen facility – where the 959 super car had been made through 1989.
The logistics of this partnership were the antithesis of today's just-in-time manufacturing. Each car was in process for 18 days. Following Porsche's sorcery on the chassis, the bodies were trucked to Mercedes' huge plant at Sindelfingen, on the opposite side of Stuttgart, to be painted. When the paint had dried, they were trucked back to Porsche for installation of the brawny V-8 engines.
Porsche completed 10,469 of the 500 E's between 1990 and 1994 (with 44 allotted to Canada). Audi subsequently recruited Porsche to create the Audi 80 RS2 Avant wagon that followed the 959/500 E at Rossle-Bau.
All of the above informed Porsche's decision-making on overcoming Zuffenhausen's limited capacity. Demand for the new Boxster was off the charts just as sales of the 911 in its 993 incarnation were resurgent. The upcoming liquid-cooled 911 promised to sell in still greater numbers.
In search of a second home for the 986
Consideration was given to assigning Boxster production to Pininfarina in Turin, Italy, which was then crafting the Ferrari 456 GT, Peugeot 406 coupe and Bentley Azure. Volkswagen plants in Mexico and the Czech Republic also were candidates, as was Wilhelm Karmann GmbH, well remembered from the 914 collaboration.
That Porsche chose Finland astonished most North American PCA members. Canadians knew Finland for Teemu Selänne and other hockey players, for Nordic skiing, for Nokia telephones, maybe Hakkapeliitta winter tires. But cars?
Those sufficiently diligent to do the research soon learned that Valmet Automotive had begun in 1968 as Saab-Valmet. Beginning in 1979 Chrysler's Talbot Horizon were assembled on the same line as Saabs. This was a first cousin to the Plymouth Horizon/Dodge Omni that was Chrysler's first front-drive model on this side of the Atlantic.
The breakthrough car, and surely the one that caught Porsche's attention, was the Opel Calibre coupe. As Porsche was looking for a home away from home for the Boxster, Valmet was closing in on its 90,000th Calibre. The success of this German-Finnish collaboration was clear and the timing fortuitous, for the Calibre was going out of production in the spring of 1997.
Porsche chief executive officer Wendelin Wiedeking would have admired Valmet for adapting Japanese production concepts in 1993, engaging Hajimo Yamashina for his World Class Manufacturing principles taken on much later by Fiat and Fiat Chrysler. In 1992 Wiedeking, then Porsche's head of production, had famously returned the company to profitability by transforming the Zuffenhausen factory to Toyota production practises under the consultancy of Chihero Nakao and his Shingijutsu colleagues.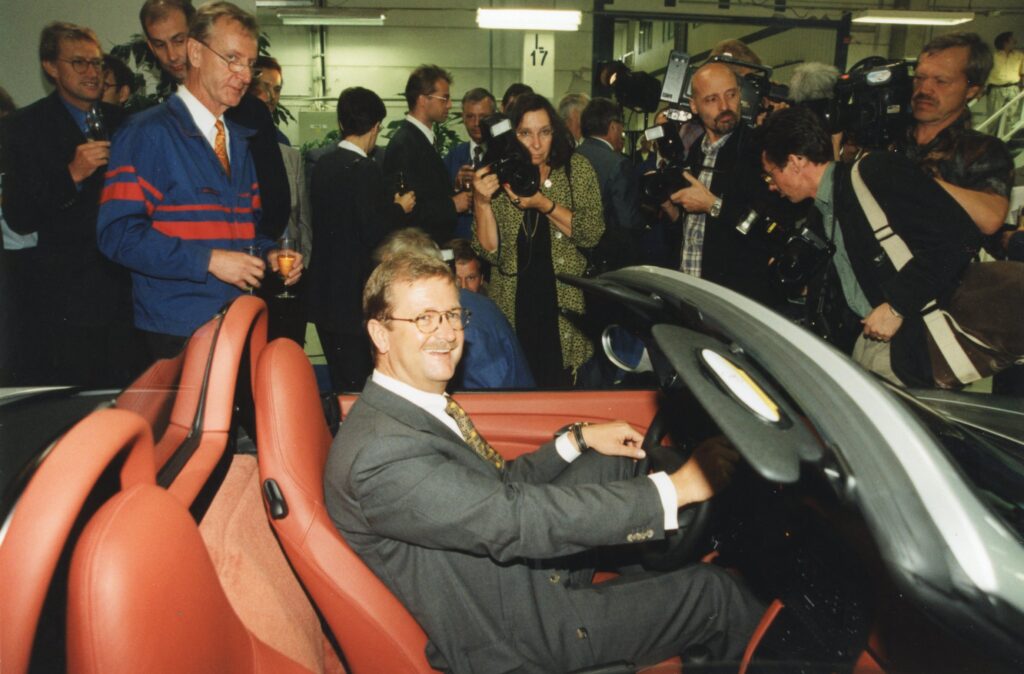 So, Wiedeking and Porsche knew Valmet Automotive as intimately as North Americans knew nothing of the Finnish upstart's three-decade history.
Only two months separated the last Opel and the first Porsche. The initial agreement called for 5,000 Boxsters but the number doubled to 10,000 in 1998. By 2001 annual production had grown to 23,000. In 2004, the contract was extended for another four years.
By the time Porsche celebrated its 300,000th Boxster/Cayman, more than two-thirds had been assembled at Uusikaupunki.
The quality was exemplary. Some said the Finnish Boxsters paintwork was superior to those made in Zuffenhausen, due to the newer paint shop.
Important to note, Valmet Automotive was not responsible for the early Boxsters' notorious IMS bearings or porous blocks. Valmet's role was assembling components shipped from Germany – engines manufactured at Zuffenhausen, body panels stamped in Germany, suspension parts, and so on.
Members of the Onneksi Olkoom! society may be intrigued by how very far their Boxsters travelled by sea and land and ocean before their odometers recorded a single kilometre.
A dedicated train carried their components from an intermodal freight terminal at Kornwestheim, five kilometres from the Porsche factory, to Lübeck-Travemünde harbour on the German Baltic coast, a distance of 759 km. (Prior to 2006, parts were trucked.)
Shipping across the Baltic Sea to Uusikaupunki took 36 hours. Once there, Valmet Automotive was only three km from the harbour. Completed cars were shipped back across the sea to Emden, Germany, if destined for North America, or two other ports for other markets.
So, another 36 hours on the Baltic followed by four to five weeks crossing the Atlantic to Halifax, Atlanta, San Diego, Baltimore, Brunswick or Charleston.
Dissolution of the successful partnership was announced on June 26, 2008. Beginning with the 2012 model year, production would move to Magna Steyr at Graz, Austria. Perhaps Magna's engineering capability, then much larger than Valmet's, was a factor because Porsche's own engineers were fully extended with its expanding model lineup.
Except, this move never took place.
In 2009 Porsche became part of the Volkswagen empire. In 2010 Volkswagen bought bankrupt Wilhelm Karmann AG (the car assembly side of Karmann, while Valmet Automotive bought Karmann's thriving convertible roof business which currently manufactures the 911 Targa roof system in Poland).
With this consolidation, moving Boxster/Cayman in house made more sense than involving Magna. So it was that Volkswagen Osnabrük, as Karmann was re-named, began augmenting Stuttgart/Zuffenhausen in 2012.
The production split varies according to demand, the one constant being that all 911 production is in Zuffenhausen. In 2019 Zuffenhausen's sports car line completed 37,585 911's, 9,642 Boxsters, 9,621 Caymans – and Osnabrük contributed 3,129 Caymans.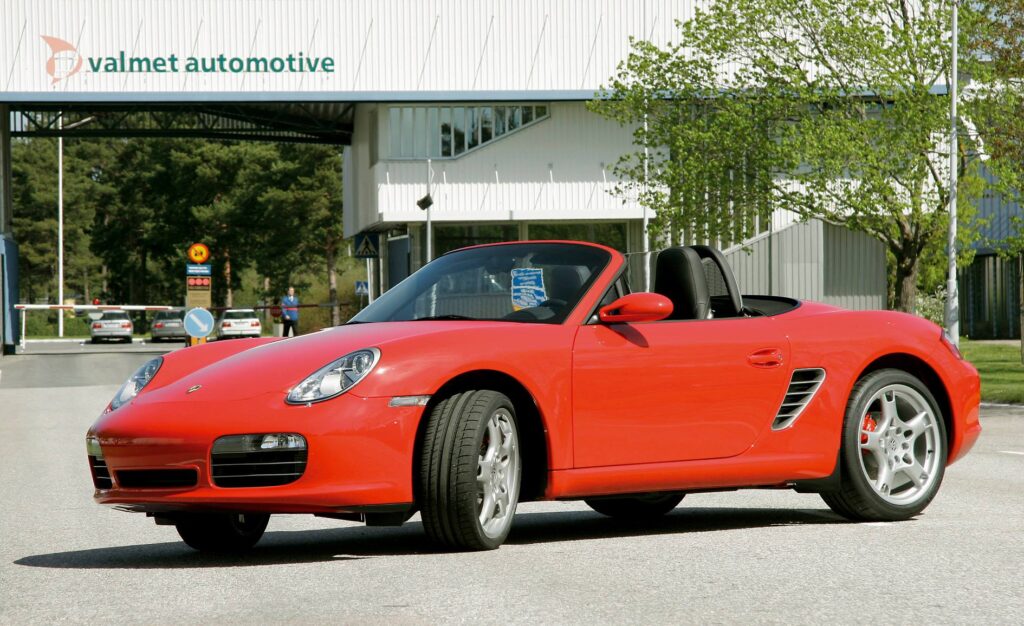 To bring this essay to a conclusion, a brief discussion of what these moments in Porsche's evolution might signify. As Volkswagen seeks efficiencies within its empire, identifying any Porsche other than the 911 with place of manufacture is becoming less of a point of pride and increasingly an irrelevance.
Anyone who remembers Made in the Black Forest by Elves, the badge happy Volkswagen owners affixed to their Beetles in the 1950's, recall it now as an amusing reminder of another time.
Stuttgart/Zuffenhausen actually began losing its currency as the centre of all things Porsche when the company expanded its model range beyond sports cars. The process began accelerating when Porsche became a fully integrated player within Team Volkswagen.
A Volkswagen plant in Bratislava, Slovakia, built 92,293 Cayennes in 2019 – along with the Audi Q7 and Volkswagen Touareg that share the same platform. Porsche's Zuffenhausen factory manufactures V-8's for the entire VW group, not just Porsches.
Uwe Hueck, Porsche's top labour representative and head of the works council, was quoted not long before his retirement that building Porsche cars outside Porsche factories could be anathema to core customers.
"The 911 will always stay in Zuffenhausen," Hueck declared. "We would have a problem if we changed that. You don't buy a diamond (at a grocer discount chain) and Zuffenhausen effectively is the jewelry store of Porsche."
Hueck spoke from the heart, but perhaps was swayed by his 35 years at Zuffenhausen. Accumulating evidence suggests Porsche has come to believe the potency of its brand surpasses the significance of its birthplace.
CLARIFICATION: Valmet Automotive should not be confused with Valmet, another Finnish company that specializes in global automation and services in the pulp and energy fields and has a Canadian office at Trois-Rivieres, Quebec.
Ownership of Valmet Automotive is 38.46 per cent TESI, the state-owned Finnish Industry Investment Ltd.; 38.46 per cent Pontos Group, a Finnish family company investing in real estate and industry around the Baltic and in Portugal; and 23.08 per cent CATL, Contemporary Amperes Technology, the Chinese battery specialist with which Valmet Automotive is developing capability in electric cars and battery production.
INTRODUCING OUR CARS
NEWEST MEMBER: KATHLEEN WONG, MARCH 15, 2021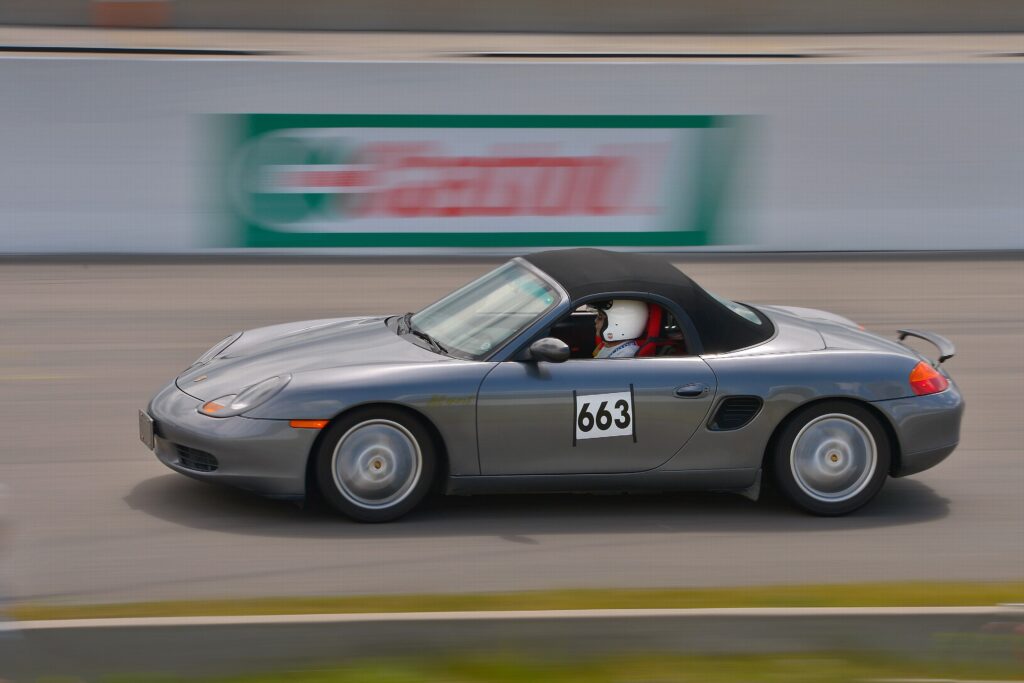 1997 Boxster 3.8! Robert Magro, robert@gmail.com.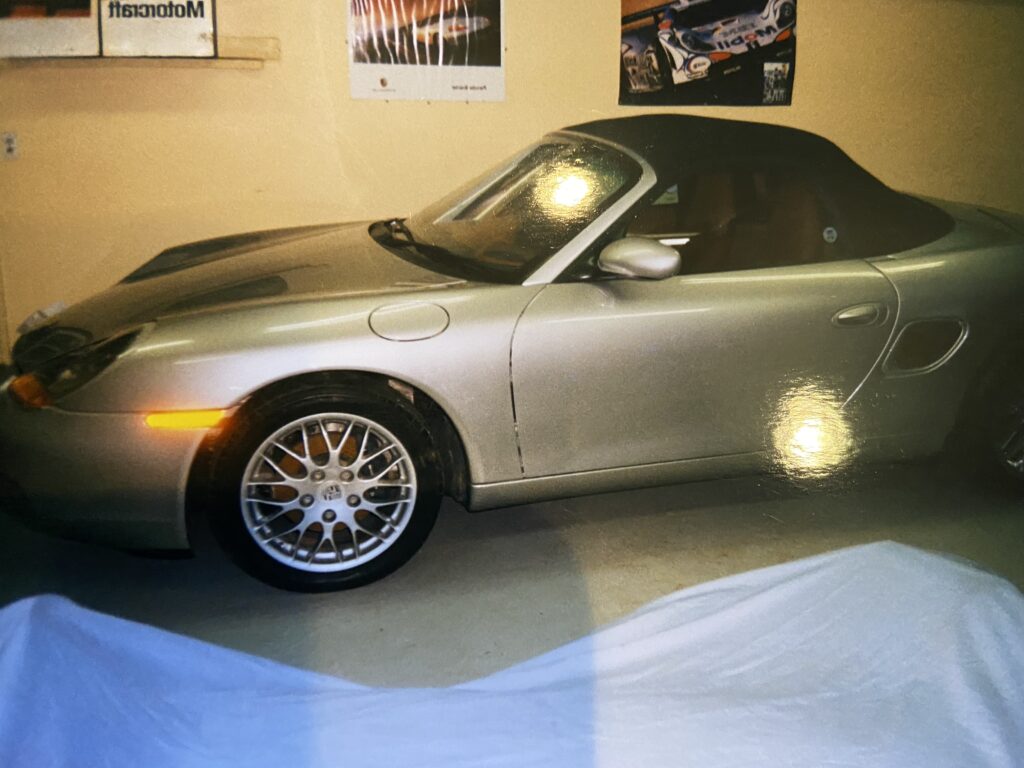 1997 Boxster. Garry Barlow, northwest Waterloo, plan1b@hotmail.com.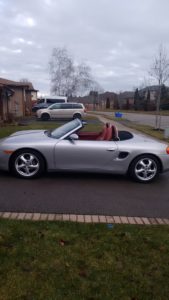 1999 Boxster. Gary Mulcahey, gmulcahey@gmail.com.
1999 986 Boxster, Andy and Jane Wright, Beamsville, andy.flatsix@gmail.com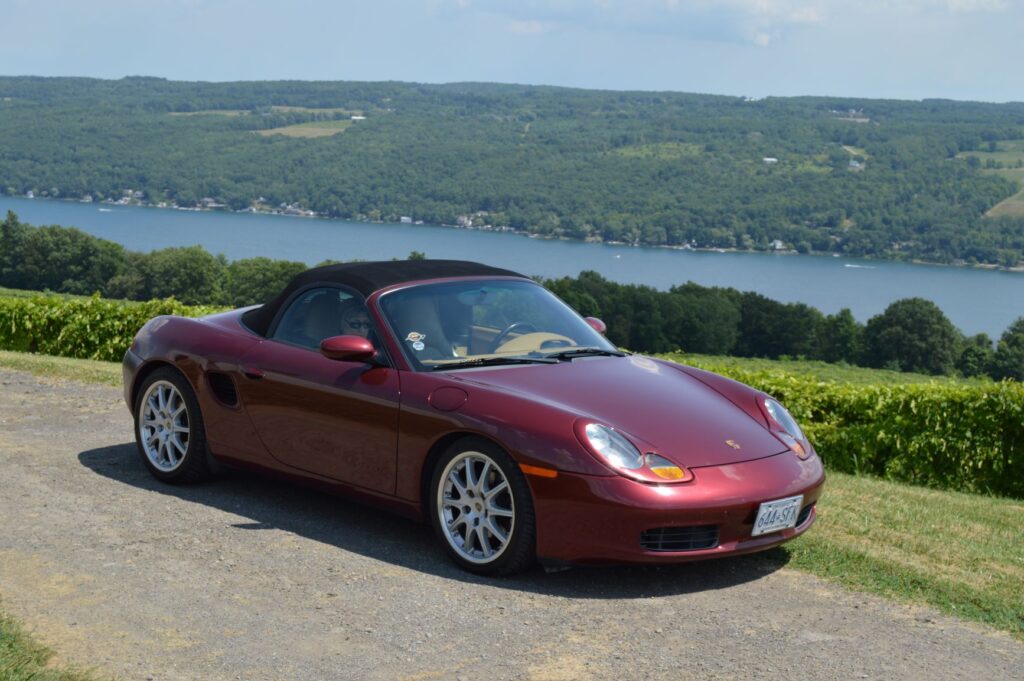 2000 986 Boxster. Noel George, Guelph, noelg699@gmail.com.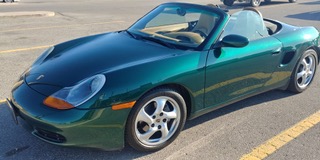 2000 Boxster S. Alex So, alexso911@gmail.com.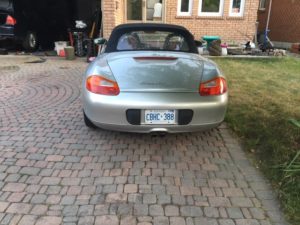 2001 Boxster S. Peter Bleakney, Oakville, pebleakney@sympatico.ca.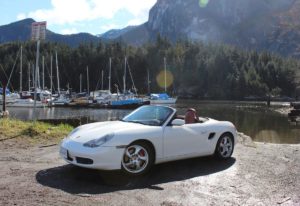 2001 Boxster S. Peter Helston, peterhelston@yahoo.com.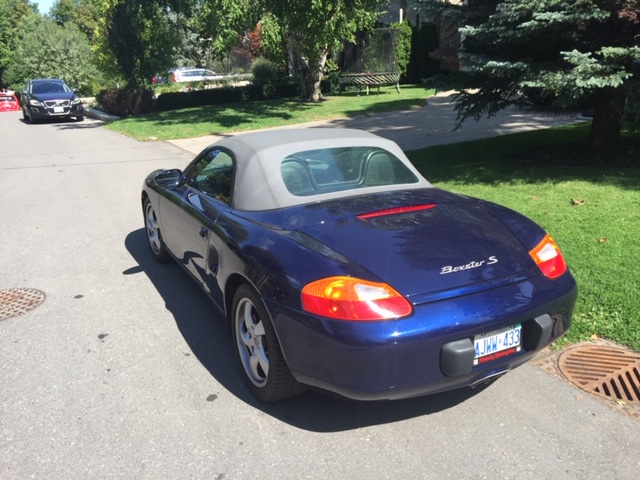 2001 Boxster S. Henry Kordowski, hkordca@rogers.com.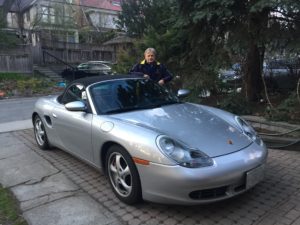 2001 Boxster. Chris Root, Township of North Dumfries (Cambridge), croot@rogers.com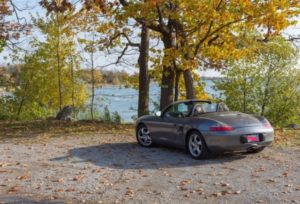 2001 Boxster S XAB. Ian John, St. George, ianjohn@sympatico.ca.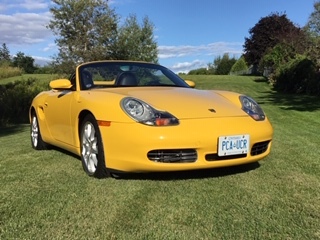 2001 Boxster. Omer Azeez, Oakville, omerazeez@yahoo.ca.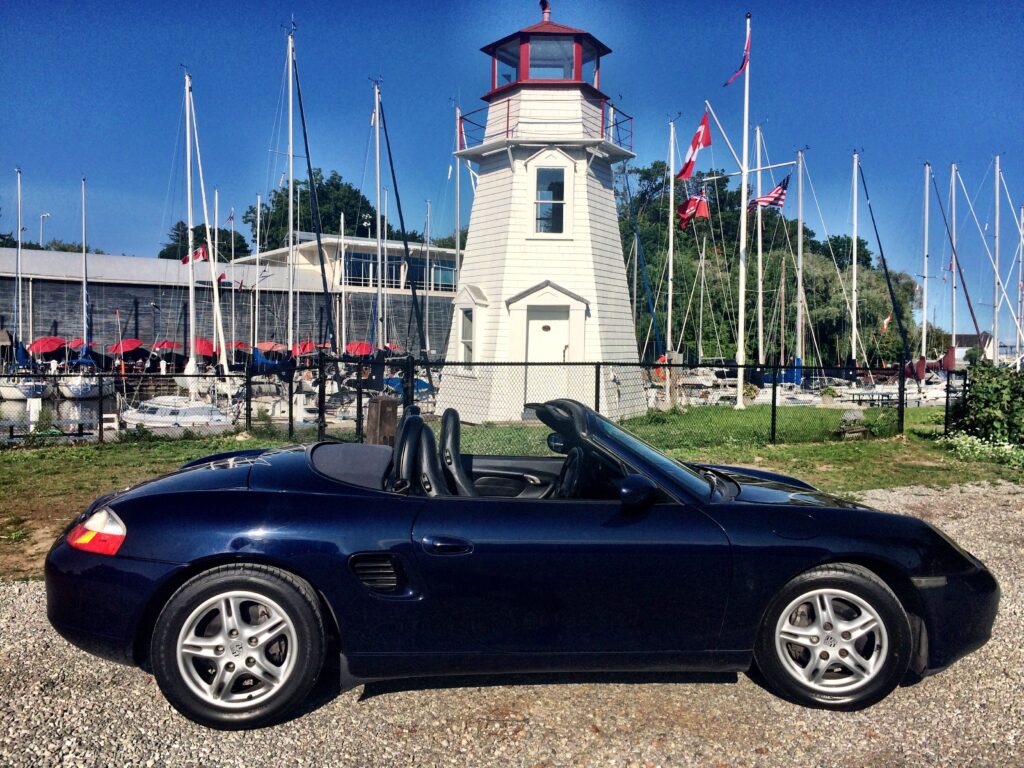 2001 Boxster S. Craigg Ballance, ballance@rogers.com.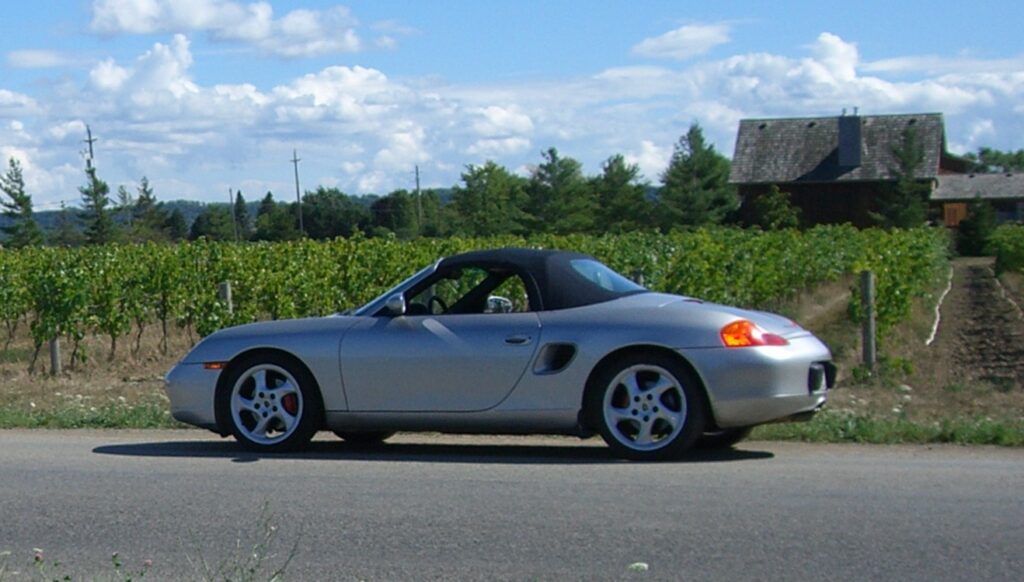 2001 Boxster. Kathleen Wong, kathleen.wong@pcaucr.org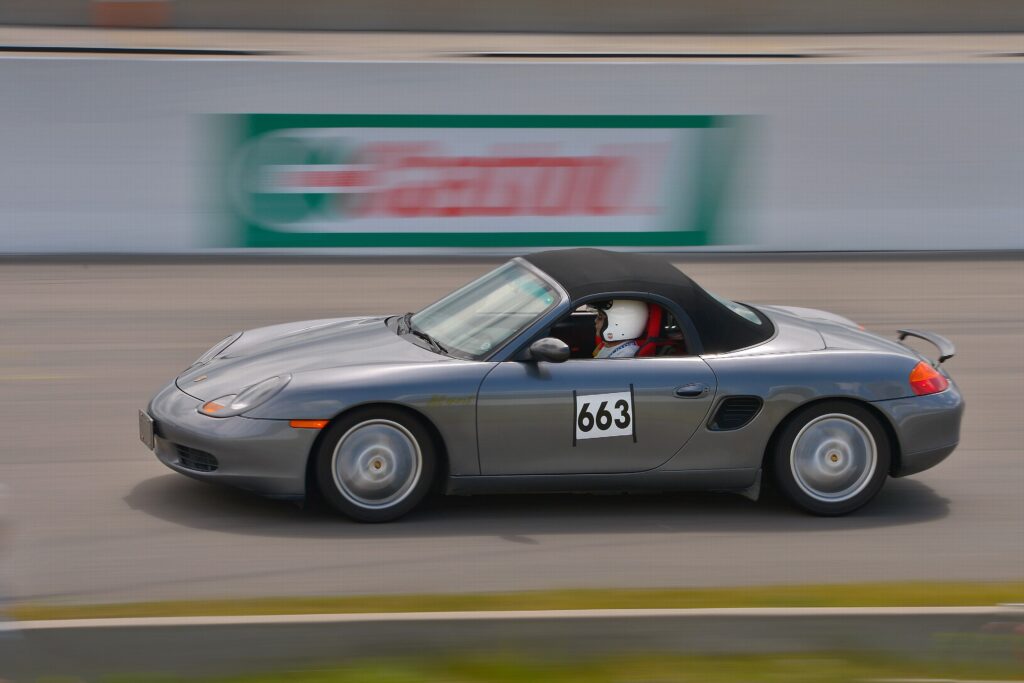 2002 Boxster. Steve Kelly, steve.kelly4@sympatico.ca.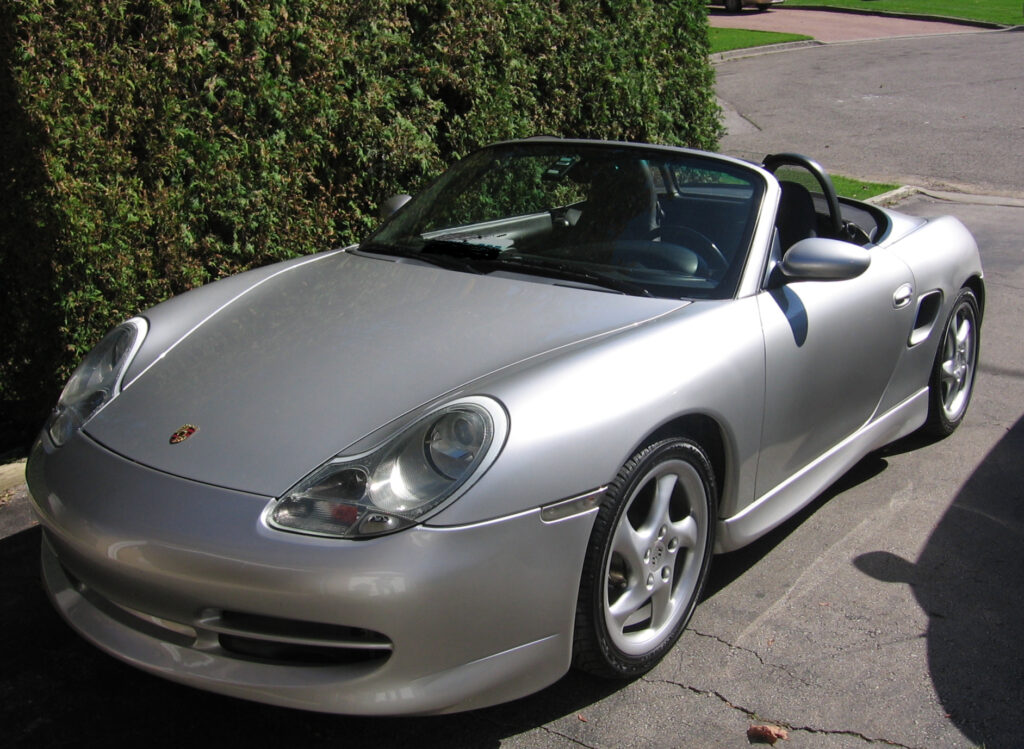 2003 Boxster S. Steve Coupar, stevejtc@icloud.com.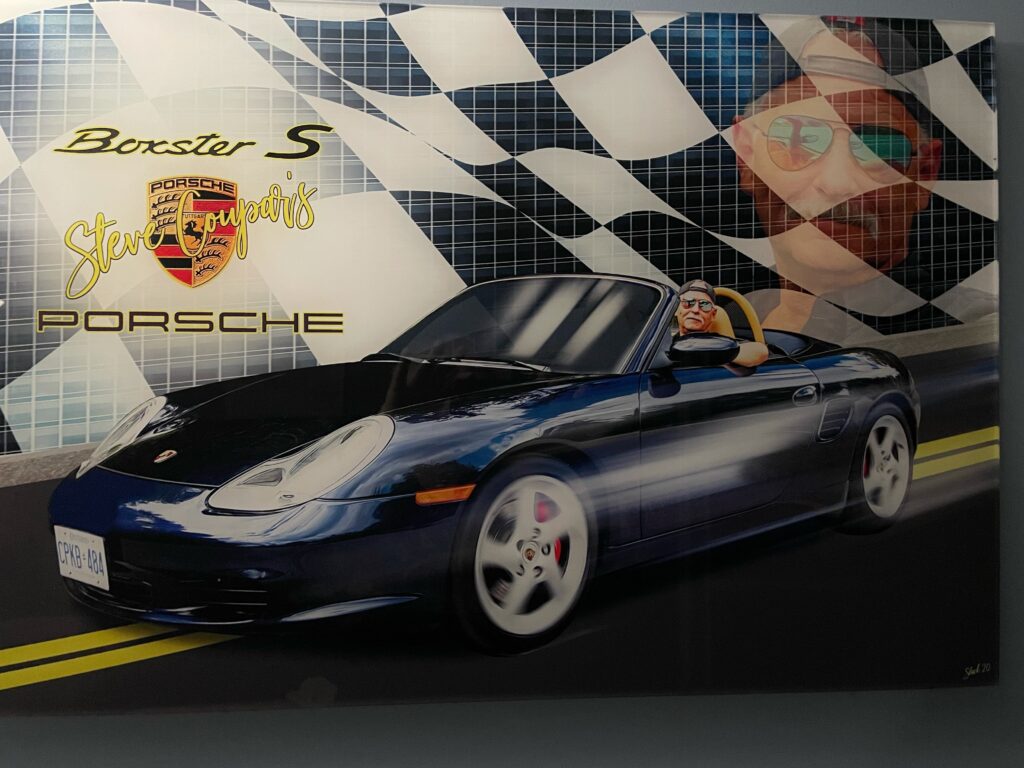 2003 Boxster S. Doug Cameron, Doug@steamwhistle.ca.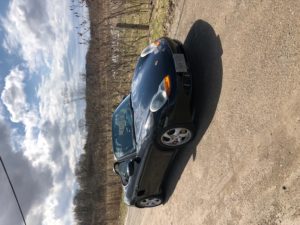 2004 550 Spyder Boxster S Anniversary Edition, No. 369 of 1,953. Paul Magrath, Don Mills, ptmagrath@gmail.com.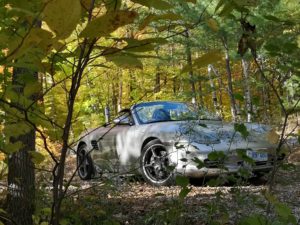 2004 550 Spyder Boxster S Anniversary Edition, No. 636 of 1,953. Norm Clarke, nclarke8819@gmail.com.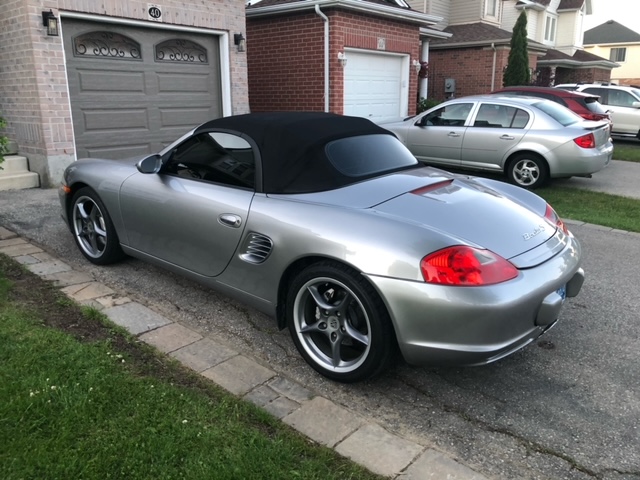 2004 Boxster S Anniversary Edition, No. 942 of 1,953. Calvin Balcom, clvnbalcom@gmail.com.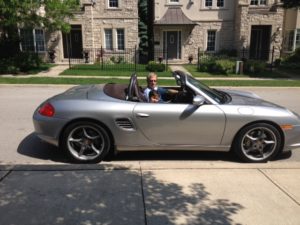 2005 Boxster S. Kevin Curry, krcurry1@gmail.com.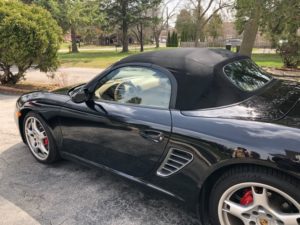 2005 987.1. Francis D'Oliveira, Georgetown, 289-839-8080.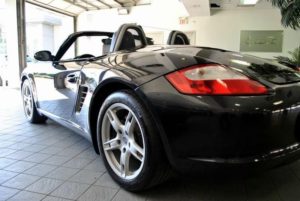 2005 Boxster. Joan and Morley Bercovitch, morley9876@gmail.com
Photo to come
2006 Boxster S. Paul Dunsbier, Etobicoke. 19pad64@gmail.com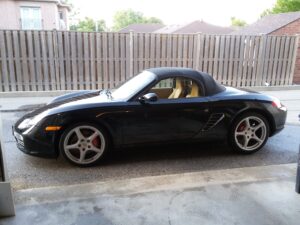 2007 Boxster Tiptronic, Michael Martin, gawlfkrt@gmail.com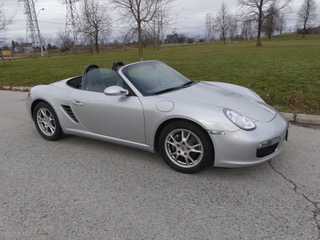 2008 Boxster S Design Edition 2, No. 283 of 500. Dan Proudfoot, danielpproudfoot@gmail.com.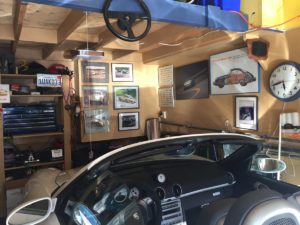 2008 Boxster S Design Edition 2, No. 319 of 500. Brian Miller, Oakville, bmiller@abmillercpa.com.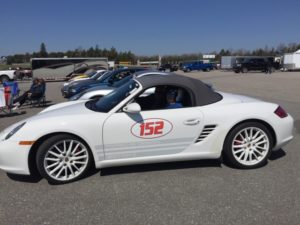 2008 Boxster S, David Johannesson, djohannesson@cogeco.ca.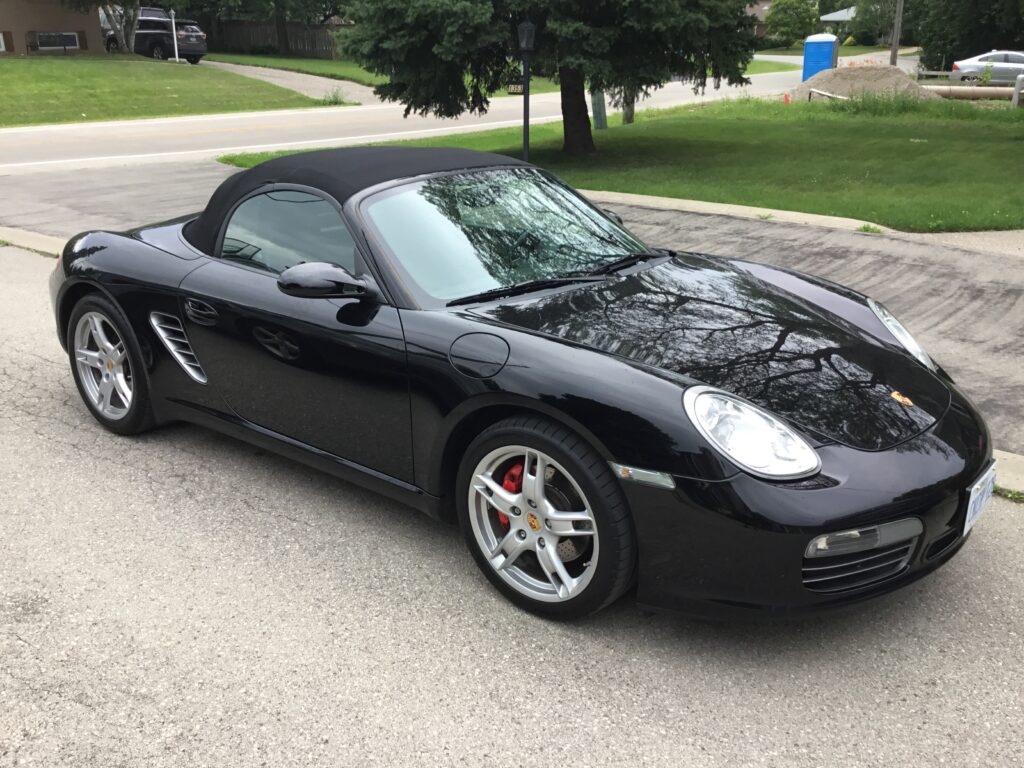 2009 Boxster PDK. Ted Youngs, tyoungs0320@rogers.com.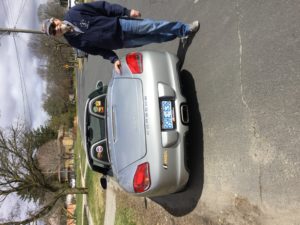 2009 Boxster. Phil White, pleblanc997@gmail.com, and Anna Dopico-White, adopicowhite@gmail.com.
Image to follow.
2010 Boxster. Kim Pyke, kimpbfx@gmail.com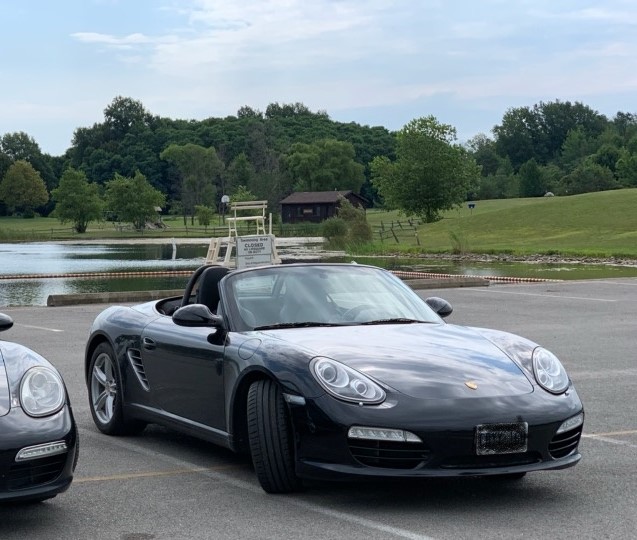 2012 Boxster. Dave Ferrie, Aurora, c44me@yahoo.com.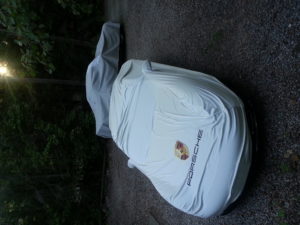 2013 Boxster S, Christina Mandri, London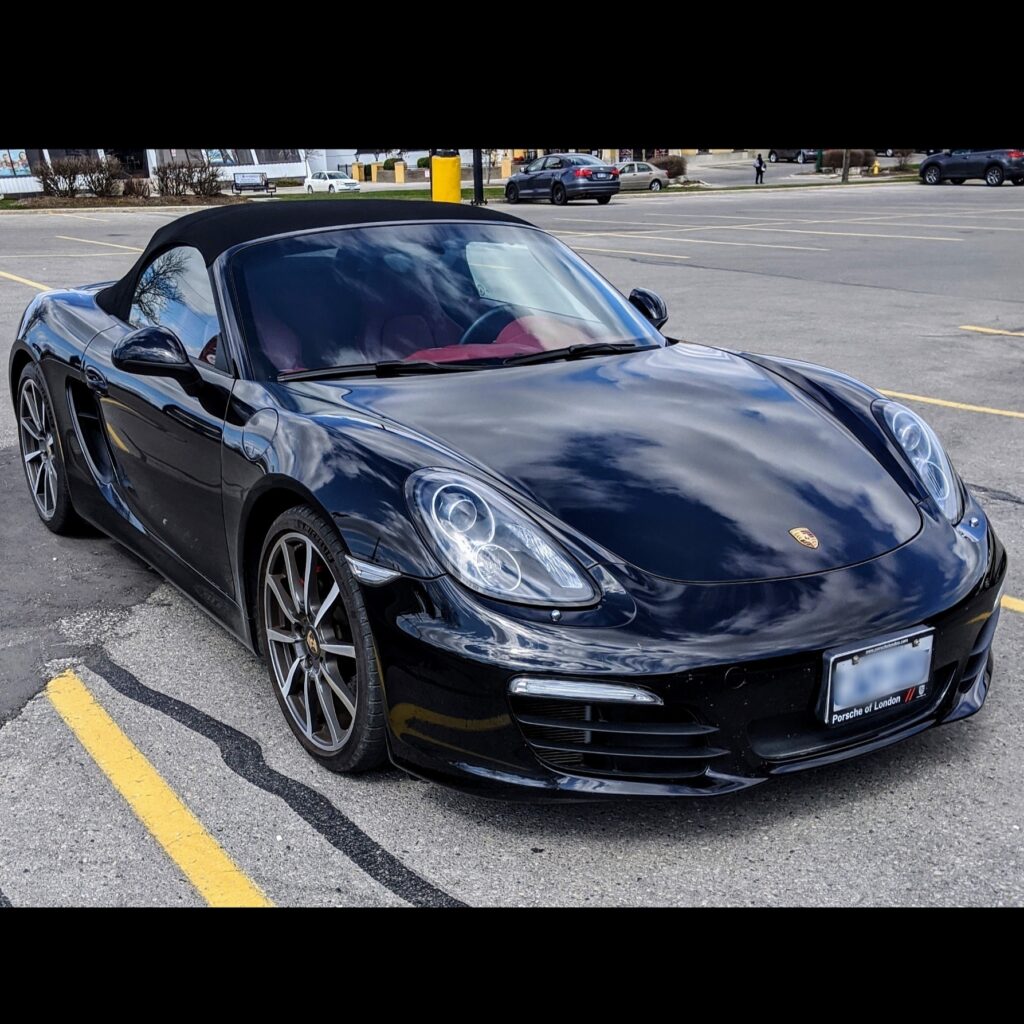 2013 Boxster PDK. Jerry Vernhout, Kitchener, jerryvernhout@gmail.com.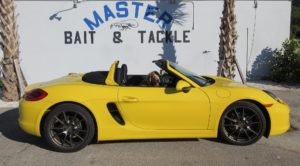 2014 Boxster. Paul J. Lacrocque, Markham, paul.larocque@sympatico.ca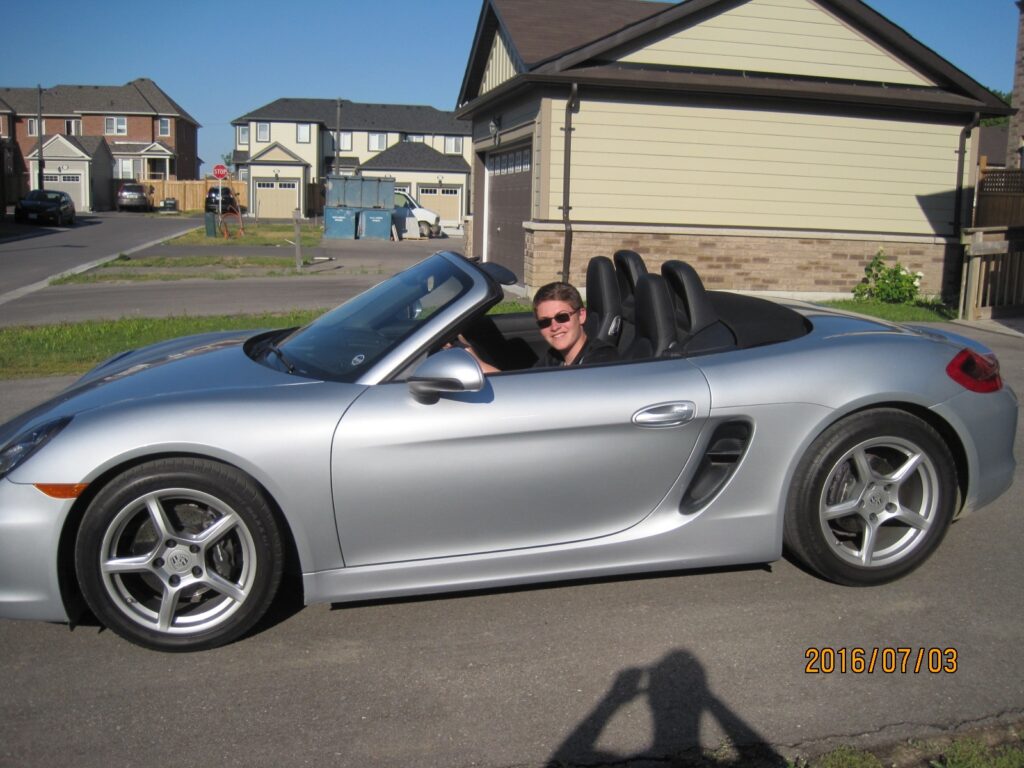 Paul's nephew Alex at the wheel. . .
2014 Boxster 981. John Tsourounis, jtsourounis@yahoo.co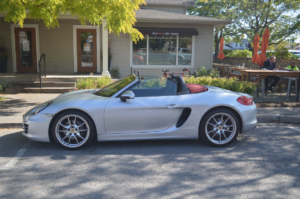 2014 Boxster, Ronald Goldenberg, ronaldgoldenberg4@gmail.com.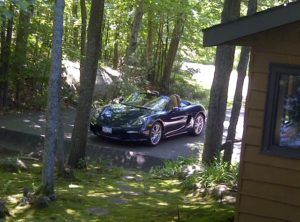 2014 Boxster S 981. Stan Schnapp, Willowdale, stan@bullochtailors.com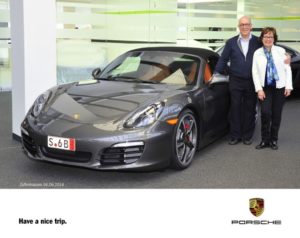 2014 Boxster 2.7. Vince Borrelli, vinceborrelli68@gmail.com.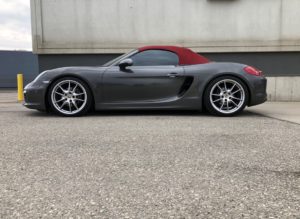 2016 Boxster Black Edition, Joy Singh, joycsingh@gmail.com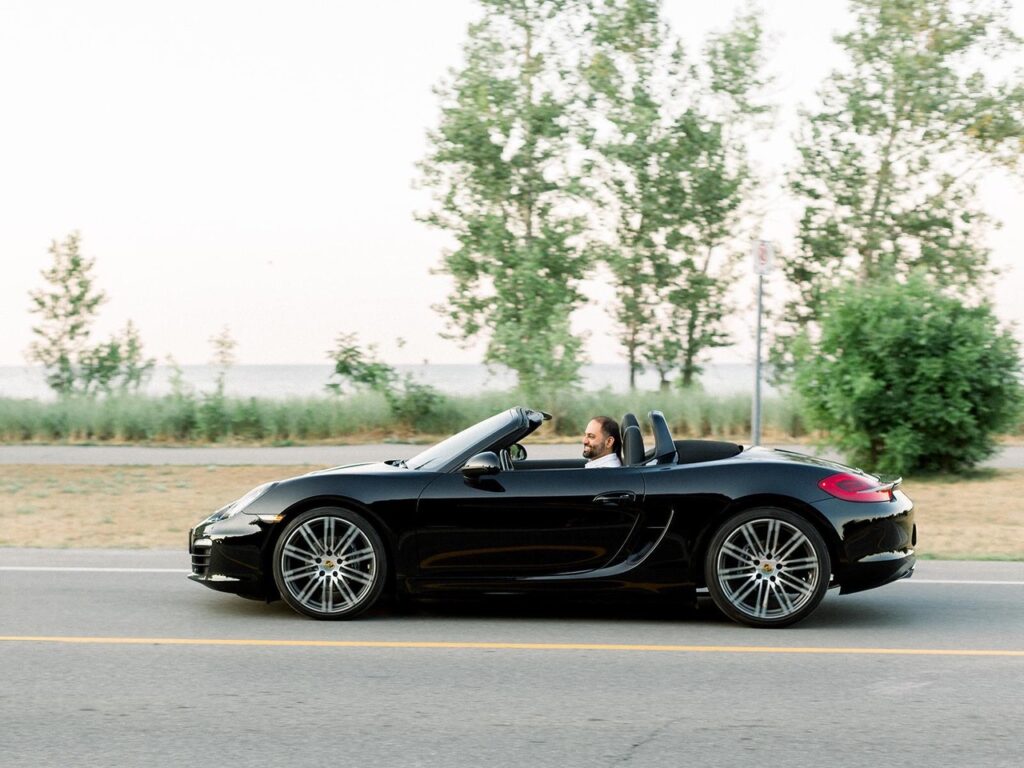 2018 718. Peter Voss, pvoss@shimco.com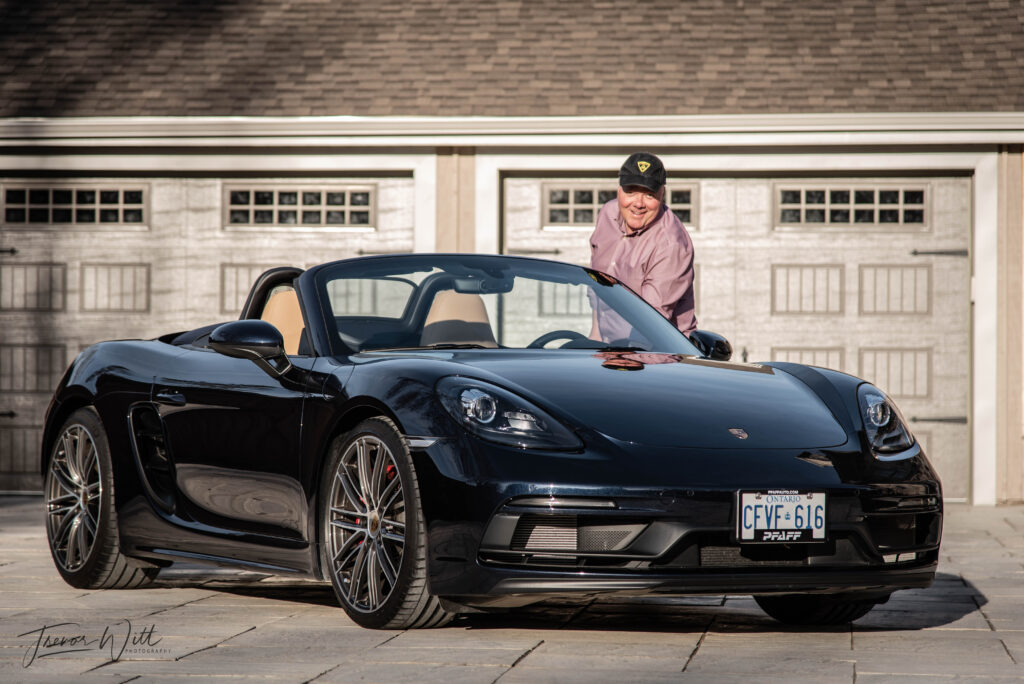 2019 Boxster S. Kristin Brule, Oakville. kristinbrule@gmail.com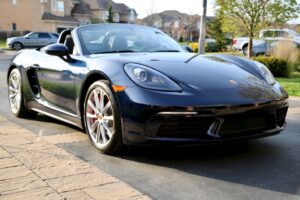 2019 Boxster GTS. Julia and Rick Laur, London, thelaurs@bell.net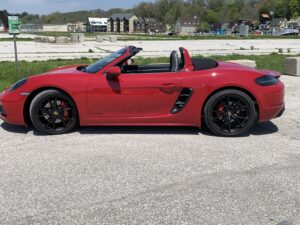 2020 Boxster 718 Spyder. Mike Bryan, Aurora.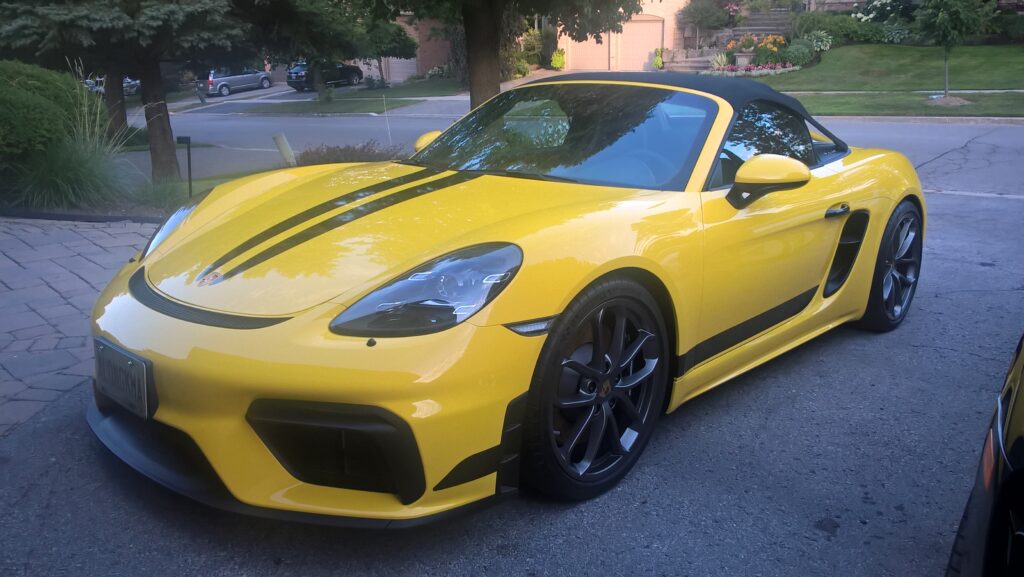 2021 Boxster GTS 4.0. Brian McGregor, mcgregor@pobox.com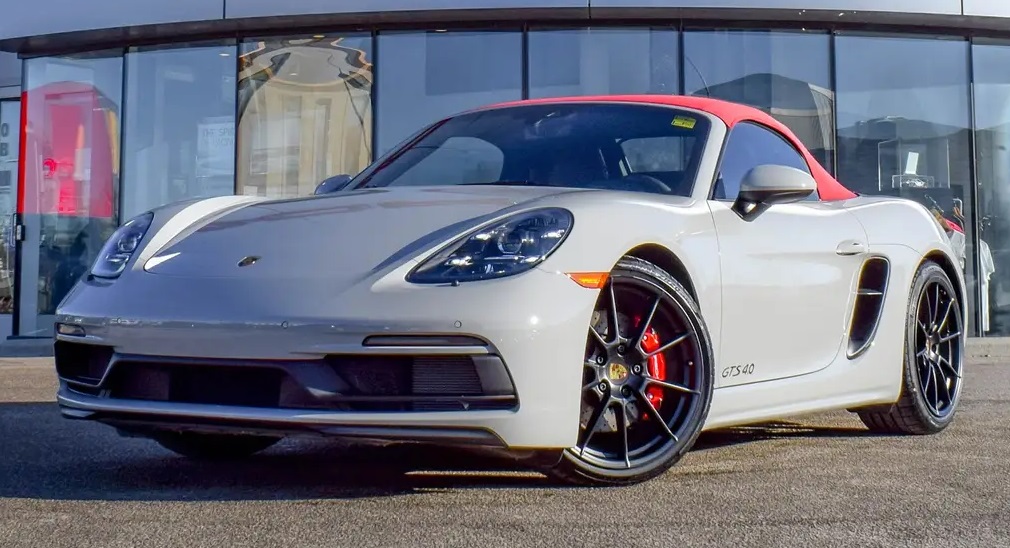 OUR EXPERIENCES. . .EARLIEST CARS TO NEWEST
ROBERT MAGRO, 1997 Boxster 3.8: Always had an interest in the Boxster since attending a UCR technical intro, at U of T back in 1997. I liked the advantages of the mid-engine layout.
I was able to find a well-optioned '97 in 1999: Arctic silver with full leather red interior. Enjoyed the unique, spacious front trunk and rear trunk during long trips or track days at Mosport and the Glen.
In 2001 I researched how to put a 3.4 996 engine in. By 2002 I was winning auto crosses with the 3.4 installed – but never disclosed the swap! Actually sold the 2.5 to a guy in Australia for a decent amount that offset the costs!
Today the 3.4 is sleeved to 3.8. Other mods include 996 front brakes and front bumper, Litronic lights, 550 all-red tail lights, full carbon interior trim, Boxster S sway bars and H&R springs. All work including engine by me, since I was a certified Porsche technician. Still enjoying the little pocket rocket and plan to keep forever!
GARRY BARLOW, 1997 Boxster: Purchased new in 1997. 200,000 kms. Drive all summer. Excellent mechanic, Furtmair Auto Services in Kitchener, been using him since we moved to Waterloo 14 years ago. Wouldn't part with it!
GARY MULCAHEY, 1999 Boxster: I was a motorcycle racer, the last six years racing a 250cc GP bike. Too many concussions and surgeries for a guy my age so I gave it up, sold the lot . . .Since I was a teen I'd been very interested in Porsche but to be honest I hated the look of the 911 cabriolet. . .I wanted a convertible.
I'd always liked the Boxster and thought of an early 2.5 for it being nice and light. I wanted silver, low mileage and few options – less to go wrong.
I found a 1999 with 56,000 km. That seemed to be the answer (owned by a hairdresser, just saying). So I bought it. I live out in Northumberland County where we have a lot of nice twisty roads in good shape and that 986 is right at home: like my 250 GP racer it's not that fast, but you can drive it fast.
Now that it is 21 years old I will start suspension work. It could use a new stereo. I may get the clutch changed and do the mandatory M96 upgrades while it is all opened up. I will keep this car around until it or I fall apart.
ANDY WRIGHT, JANE WRIGHT, 1999 986 Boxster: We bought this car in 2018 from close friend (and fellow SIGBOXSTER member] Ian John.
Ian had imported it from Florida for a friend, and purchased it back from him a few years later. The car currently has only 90,840 kms on the odometer, so has averaged less than 5,000 km per year. It's in excellent cosmetic and mechanical condition and the Arena Red colour with Savanna Beige interior is particularly attractive.
The split-rim Porsche Sport Design wheels, front light covers and sport exhaust were on the car when imported – they give a distinctive appearance and sound!
Living in Beamsville in the wine region of Niagara we enjoy top-down drives in the area but have also vacationed in the Finger Lakes area of NY State.
NOEL GEORGE, 2000 986 Boxster: On a pure whim I went online in late spring 2017 and found this lovely 2000 Boxster for sale in Montreal. This was a vermeil well cared for, one owner, always garaged car purchased new at a Montreal Porsche dealer. Closeup photos were emailed along with service records dating back to 2012.
I mulled it over for a day or so. . . An amount was agreed upon and I travelled via rail (one-way) with a certified cheque. The car was better than expected and only 89,000 kms. I had never driven a Porsche before, let alone a Boxster, and drove straight back to my home in Guelph.
It only needed two front tires to pass safety. Since then I have driven approximately 6,000 kms per year. Always garaged with a cover – my pride and joy! It has been super reliable. It receives dozens of compliments every year from people loving the green on tan colour combination.
ALEX SO, 2000 Boxster S: The heat in 964 sucks. . .so I drive 964 spring, summer and fall (though it has snow tires mainly to prevent flat-spotting my summers. The Boxster is my wife's car, so we take it out if she wishes to drive . . .OR we take the Boxster out if it's cold and we need the heat, or really hot and the a.c. works! I've bought a hard top because my wife doesn't care for the open top.
PETER BLEAKNEY, 2001 Boxster S: I live in Oakville, and after a few months of searching for a first-gen Boxster S I found this one in Vancouver, listed for $14,500. I had a friend check it out, he said it looked clean, so I cashed in some Aeroplan points and got a flight.
Apparently it had been raining for weeks in Vancouver (go figure) but on the day I was handed the key to the white over red 2001 Boxster S from its seller (and he did look a bit sad), the sun shone, the birds chirped and spring was in the air.
I drove it up to Squamish and then headed back to the Vancouver rail yard from where it was to make its journey to Ontario.
I replaced the IMS bearing for peace of mind and last year installed a Fabspeed Maxflow exhaust.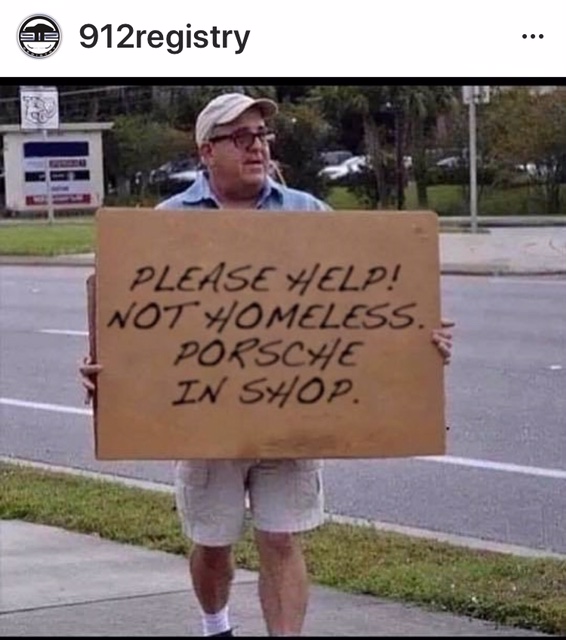 FALL, 2019 BLEAKNEY: I found a guy on Kijiji who is parting out a 2001 and I bought the turn signal assembly and headlight switch from him, both of which I've installed (thank you YouTube!) and all is working properly.
I also got the driver door latch assembly which will fix a problem I've had since buying the car. One of the micro-switches in the latch instructs the window to dip when closing the door, which it has never done. I'll attempt to install that in the coming year . . . a bit more involved than my earlier work.
SPRING, 2020, BLEAKNEY: With higher mileage Boxsters (mine had 126,000 kms when I bought it), the bushings in the front and rear lower control arm links get mushy and you get low speed rates and less precise handling. So I replaced those links with TRW (rear) and Meyle (front) which eradicated the rattles.
Next on the list were the lower control arms – called coffin arms – to further tighten things up. A local supplier told me OCAP parts were better than Meyle so I bought them and installed them. WRONG! Really stiff ride and lots of steering kickback. The bushing calibration was not correct. So I bit the bullet and bought Meyle coffin arms – which work beautifully.
The final step, Porsche Oakville for alignment and they righted everything. The car now rides/handles properly and feels tighter than a clam's arse at high tide. Plus I found a set of 18-inch 987 Cayman S wheels on Kijiji ($1,000), threw on some Michelin Pilot Spot 4S. Looks and feels great.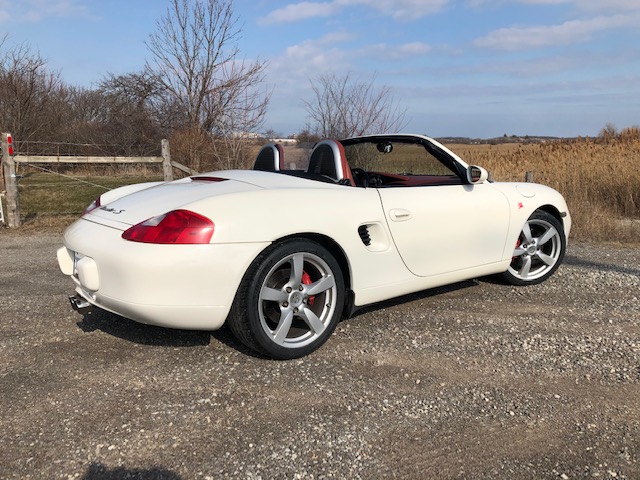 PETER HELSTON, 2001 Boxster S: It is a Lapis blue/grey/grey with 108,000 km on it. Other than a few sensors it has been trouble-free. What a terrific car!
HENRY KORDOWSKI, 2001 Boxster S: I bought this car in September, 2006, with 23,000 kms and now have 70,000 kms. Car was built in December 2000 in Finland rather than Germany. Great fun as a second car: I love to get the revs up in each gear so you can hear the flat six playing out its glory! Always fun to meet up with fellow Porsche comrades to discuss cars and have fun drives!
CHRIS ROOT, 2001 Boxster: It's a 3-season fun car. We have participated in many PCA UCR Fun Runs, as well as both Targa Muskoka and the Targa Prince Edward County events (we even managed to place first somehow in the latter!). We have attended the Blue Ridge Boxster Summit twice in Little Switzerland, North Carolina, making the 13+-hour drive in one day. For a sports car it is quite practical for tripes due to the two trunks.
IAN JOHN, 2001 Boxster S XAB: I purchased my Boxster from the second owner – and knew both previous owners, both PCA members, and the car from day one.
You asked about the PCA-UCR Concours d'Elegance (at the Wundeba restaurant, Burlington). I thought it'd be fun to enter, not knowing what to expect, thinking it would be a learning curve this year with perhaps a result for next year, so I was surprised and pleased the car did so well (winning Class 6 in the judged concours, for water cooled cars 1998 to 2005).
They did not judge the engine due to the task of exposing it, or the undercarriage. My detailing was just the exterior and interior, but after putting the car on axle stands and removing the wheels, I spent about 10 hours cleaning and detailing everything I could reach, including the exposed suspension and brakes.
I had fun with the project as there is some solitude in spending quality time with your favourite car in the garage. Winning Judge's Choice for the event was a shock – but I am convinced it was a combination of the colour and the rare XAB Speedster Rear that swayed the decision.
It was very heavily optioned when ordered new at Pfaff. The XAB option is a two-piece unit that attaches over the rear, covering the folded top to give the Speedster look. I can't wait to get it out again.
OMER AZEEZ, 2001 Boxster: It already had 190,000 km it when I purchased my Lapis Blue/Metropol Blue in the spring of 2016. I'd say it had been neglected most of its life.
In fact the clutch failed about three km from my house as I drove it home from the somewhat-sketchy corner lot I purchased it from. I took it as a sign and got the IMS/RMS taken care of along with the clutch/flywheel replacement. For what it's worth, the IMS was in great shape – but you can't put a price on peace-of-mind!
I've put another 40,000 km on it and basically brought the car back to OEM spec. Mainly cosmetic upgrades – replacing interior panels and pieces, taillights, clear markers, Litronics, soft-top window, paint colour correction.
Mechanically the car has been solid as a rock outside of wearable items I've changed, i.e. brakes, spark plugs, etc. I believe most of the parts including suspension are original – amazing for a car pushing 20 years.
I did treat myself by installing a Sprint Booster module that drastically decreases throttle valve response, basically acting as a 'Sport' button. The most joy of owning this Boxster has come recently as my kids are now old enough to enjoy the car with me, albeit one at a time, in their booster seat. Living in Oakville, there's great access to country roads.
This was my first Porsche purchase but I also have added a Cayenne 6-speed . . . more on that in the Cayenne SIG!
CRAIGG BALLANCE, 2001 Boxster S: Always a car guy and in my young days that translated into '60s-'70s muscle cars. I had many V-8 icons – 340 Dodge Dart, several Corvettes, a Cougar XR7 etcetera – and many of them were convertibles.
In the early '80s I had the chance to drive a late '70s 911 SC and loved it – learning horsepower without handling was no real fun. This led to the purchase of a Guards Red 1984 911 Targa which was pure joy. All that air-cooled clatter and gear whining behind me and the short hood in front made every drive an experience. Who needs a stereo when there's a mechanical symphony behind you?
Then I saw my first Boxster in the late '90s, in the flesh as it were, and I was stunned.
The body lines were amazing and the mid-engined layout and handling were what I longed for (having had a few pendulum moments in the turns in the 911). I was able to acquire my 2001 Arctic Silver/Metropol Blue 2001 Boxster S in August of 2002 (it was 14 months old) from someone who was moving on to a 911 Turbo, lucky me. It still had three years of factory warranty.
I have never regretted the switch and even now, after 18 years, it feels as fresh as the day I first got it. The two trunks come in very handy for short trips and getaways as I'm sure most owners appreciate. The 250 horsepower 3.2-L always seems enough and rowing through the six-speed is never a chore. And I still hear the symphony. . .it's just a little closer now.
KATHLEEN WONG, 2001 Boxster: This was my first Porsche track car when I started in the UCR DE program in 2000. The mid-engined car with 50/50 weight distribution made it much easier to handle on the race track. And the low horsepower made it less intimidating approaching blind corners – Turn Two at Mosport which is blind, downhill, high speed, double apex, off-camber corner.
Since I got into PCA Club Racing (in a 944 Turbo) in 2008 my dad has been driving the Boxster in DE, but I drove it in DE in 2020 – it's still a blast and it is exhilarating if I can catch up with a higher horsepower car driving down Turn Two.
STEVE KELLY, 2002 Boxster: I have owned my 02 Boxster since late summer, 2006. I have not made any modifications; I have had many repairs! The fact I still own it after all these years is testament that I can't find a reason to replace it. It still checks all of the boxes that I want in a sporty car:
A practical sports car. Attractive. I catch myself taking a sneak peak just because I love the way it looks. Convertible, for the pleasure of being at one with my surroundings. A car I love to drive. For no other reason than just it's a pleasure to go.
STEVE COUPAR, 2003 Boxster S: I purchased this 986-S, my first Porsche, from Village Auto in Ancaster late last summer. Next I had to scramble to find someone willing to drive me there from London so I could drive it home.My brother-in-law, an old Mercedes AMG guy, has a 2005 with out 425 horsepower. A rocket! We made the 110-or-so-mile trip in about 15 minutes. Only kidding! But he did fire its guns a couple of times and it left me spoiled: 425 hp versus my 258-hp Porsche. I sent him a text afterward saying, 'next time you drive me to pick up a car, do so in a Jetta or something similar.'Forward to now: I find myself enjoying a car that I have come to seriously appreciate. It's not just about horsepower , which my Boxster may be limited in, but it has all the class you could want – the thumbs-up from complete strangers on the street or those that pull up beside you at a traffic light are testament to that! As for the Merc AMG it has not fared so well. After a mechanical issue came up that was going to cost approximately $15,000 my brother-in-law told the dealership to keep it. I texted him a few days later to say say I saw his Mercedes outside the dealership with a sign on it, "Free to a Good Home."
Addendum: Don't know if I did well or not but I paid $18,000 and I'm good with that. I've felt worse buyer's remorse buying Kentucky Fried Chicken!
DOUG CAMERON, 2003 Boxster S: I was fortunate enough to attend a Porsche track day about eight years ago. After that I said to myself, I will get a Porsche at some point. My mechanic had rebuilt and been driving this 986 for the past three years. Last fall I asked if he would consider selling – and when he said yes my dream came true. Once the world returns to normal I am looking to attend some club events.
PAUL MAGRATH, 2004 550 Spyder Boxster S Anniversary Edition, No. 369 of 1,953: I believe maintenance is continuous. . .that said, I always winter prep meaning full wash, oil change and fuel top-up. If storing, pull cables from battery and put on trickle charger, lubricate door and window seals, increase tire pressure and place 2mm rubber pads under tires to get them off concrete, and add fuel stabilizer. . .I have a list but this is off the cuff so I am sure there is more. Rodent prevention is a necessity so mothballs in and around and a rag in exhaust. Always make sure you flip the electronic hood latch if you pull the battery, otherwise it is a pain to get back in. In spring I look at my tires for war and cracks, same with hoses and seals. I run it for a week or so and check oil colour, feel (unscientifically) for viscosity and any contaminants or metal flakes.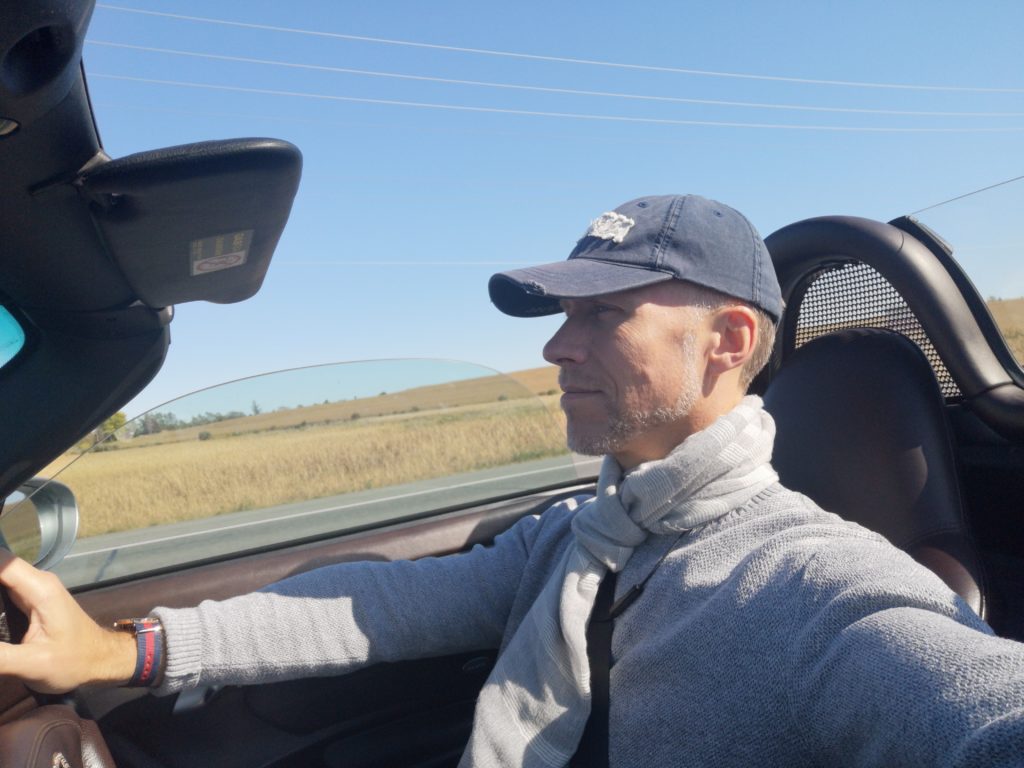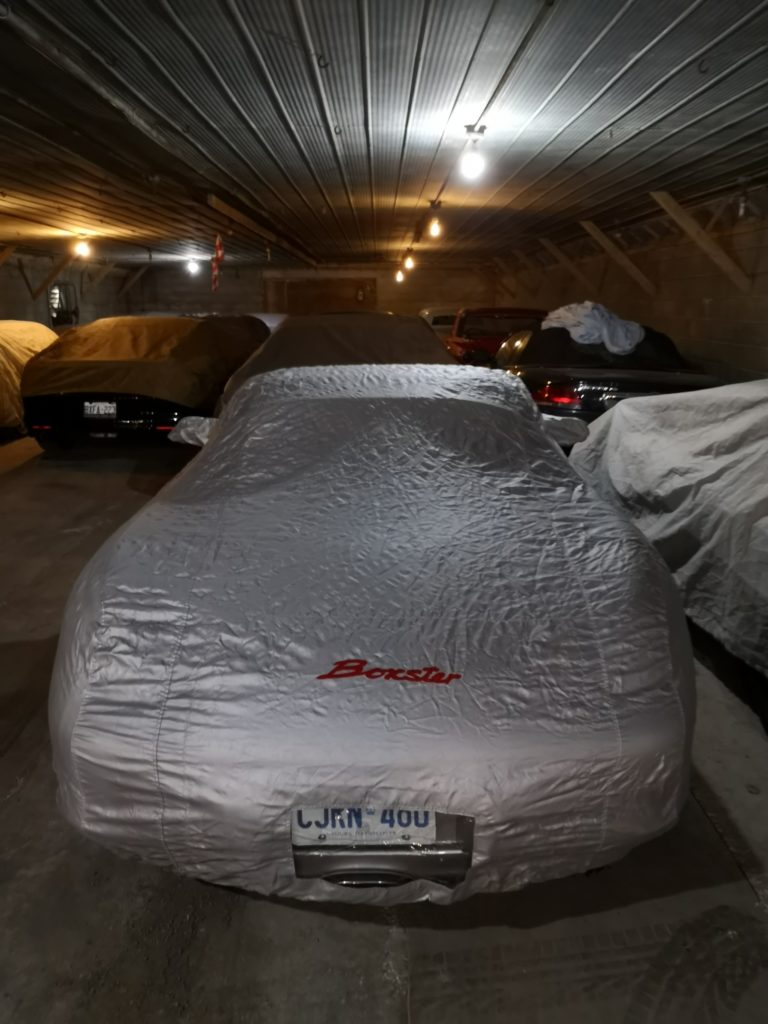 SPRING 2020, MAGRATH: Just pulled baby out of winter hibernation, checked fluids, pumped up the tires and hit the not-so-open roads. Looking forward to meeting everyone and sharing stories, coffee . . . a beer. NOV. 8, 2020, MAGRATH: Beautiful day to be out on the roads. . .and gave her a wash on the way home. . .found the light just right when I parked to go blow off the leaves.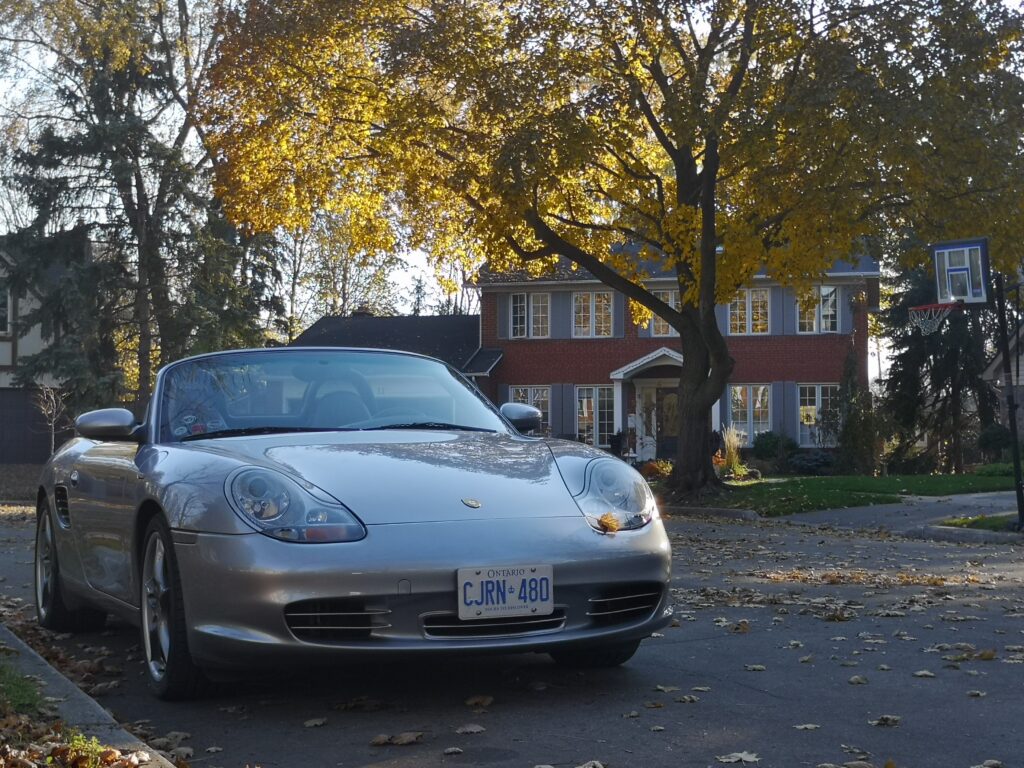 NORM CLARKE, 2004 Boxster S 550 Spyder Anniversary Edition, No. 636 of 1,953: I have No. 636, I love the car but have only had it about seven months so I never got to drive it a lot. But when I did, it's awesome. It's in winter storage so am looking forward to a full summer of it. I bought the Tiptronic so the whole family can enjoy it without burning out a clutch or transmission!
CALVIN BALCOM, 2004 Boxster S Anniversary Edition, No. 942 of 1,953: I was at the point of looking at Boxsters in Florida and Texas in 2012 when a good friend who owns Kennedy Ford in Oakville called – a customer of his who's a collector was trading in a Boxster on a special order Cobra Mustang.
I did what every Used Porsche Guide tells you not to do, bought it sight unseen. David Nourse, the Ford dealer principal (with his brother Scott), had seen the car several years earlier and thought it was in excellent condition. And it was a 2004 Boxster S Anniversary Edition with 29,000 kms.
Since then Susan and I have enjoyed five fun runs, and in 2018 and 2019 attended the Blue Ridge Boxster Summit. We signed up for the Maritime Run June 1st, COVID 19 permitting.
KEVIN CURRY, 2005 Boxster S: This is strictly a summer time, winding road, breeze in my hair – if I had enough – fun car. I drive it like a Porsche should be driven.
FRANCIS D'OLIVEIRA, 2005 987.1: We bought our 2005 Boxster in February of 2014 from a dealer in Mississauga. We researched the car's DNA and had it checked out at Techmax Auto. I was not concerned with the 120,500 km on the odometer as long as I could be reasonably sure that the original owner of eight years had it serviced.
MORLEY AND JOAN BERCOVITCH, 2005 Boxster: We have owned our 2005 (black/black) since 2008 and belonged to UCR since 2012. We particpate in a couple of runs every year and I did A DE in 2014. We live in Wasaga Beach and enjoy driving the interesting roads of Simcoe and Grey counties. Looking forward to having some fun with other Boxsters.
PAUL DUNSBIER, 2006 Boxster S: I'm mostly interested in home maintenance and I hope to get in touch with other enthusiasts. I have completed some minor maintenance – oil changes, serpentine belt, air filter – and planning transmission and power steering fluid changes. Has anyone used Mobil 1 Delvac 75W90 for the transmission flush? For the steering I have Pentosin 202 on order. I realize many only use Porsche fluids but at $58 a litre (for 00004330549) I'm balking. Very interested in others' experiences.
MICHAEL MARTIN, 2007 Boxster Tiptronic: I didn't realize I had any desire to own a Boxster until I rented one on a whim for a day – August 13. It was love at first drive after She Who Must BE Obeyed (Shirley) gave her blessing.
We sold her 2017 Corolla, I gave her my RAV4 and looked for replacement that would hold my golf clubs and be automatic for Shirley: It turned out to be a Boxster in Barrie. The car had originally been sold in Ottawa; this was the second owner and the car had 58,000-plus km, both the engine and body in great condition.
I bought the car in late September and had Oakville Porsche bring it up to snuff with a long-overdue full service and minor adjustments. I look forward to attending the Introductory Driving Course and club events when COVID-19 is under control.
DAN PROUDFOOT, 2008 Boxster S Design Edition 2, No. 283 of 500: I bought my first Porsche in 1969, a 1963 356B Super, for $2,295 ($1,261.75 on top of my VW trade-in) and over the next 30 years I spent another $30,000 or so trying to make it like new. There was no end to its rusting.
But, I caught a break when I bought my 1978 911SC off eBay for $8,865 U.S. in 2006. It had no rust! It had spent all its years in Salinas, CA. I loved this car for a decade – and spent another $30,000-plus bringing it back to as-new – when another break came my way. Air-cooled Porsches began appreciating.
Selling the SC (almost) funded the purchase of my Boxster S, my first like-new Porsche, from UCR past president Mike Bryan in December, 2018. He's happy to have found a Canadian buyer; I'm thrilled it's me.
SPRING, 2020, PROUDFOOT: While driving downtown for Christmas shopping, suddenly the steering got really heavy and the temp needle accelerated right. The immediate verdict was that the drive belt had failed. . .but I thought I'd heard a clunk of metal hitting pavement.
What's more, Mike Bryan's service records showed the belt had been replaced fairly recently. What the? It was a worry all winter long while the car slumbered in the garage.
PHIL WHITE AND ANNA DOPICO-WHITE, 2009 Boxster: Anna bought the car used in 2012 and quickly updated it with RSS suspension pieces and stiffer springs for a more spirited ride and more track oriented alignment.
It was nice to see these changes did not affect the comfort in daily use and on long trips. Since then it has been used in a variety of fun runs and trips including the great roads of the Appalachians and Great Smoky Mountains including The Tail of the Dragon.
We have also used the car at PCA and other track days; its balance makes it a great drive at the more technical tracks.
One look told the story after the car was flat-bedded to Yarko Matkiewsky's for its spring service: Water pump failure, not belt failure! And when the shaft snapped the pulley grenaded damaging the crankshaft pulley. Long story short, $335.71 for a new water pump, $164.61 crank pulley, $92.17 thermostat and housing, $120.87 coolant fill. Plus labour. The price of the drive belt? $40.14.
KIM PYKE, 2010 Boxster: We purchased the car in 2017 and have had the most fun going for drives, participating in UCR's tours and trying a couple of the rallies.
We both have an 80-plus parent and have had the pleasure of taking each for a spin (roof up!) with great delight. Truly a car for all ages. During the social restrictions of last summer we ventured to towns we wouldn't have otherwise revisited. Touring around GTA back-roads with the roof down is a stress reliever we're enjoying!
BRIAN MILLER, 2008 Boxster S Design Edition 2, No. 319 of 500: My partner, Renate Weidner is a longtime DE'r; her track car is a Cayman GTS she has significantly modified.
We went to Germany in 2017 to visit her family and see the country, as I had never been. We rented a nice 5 Series BMW and drove like stink on autobahns all over the country . . .and I became thoroughly hooked on speed.
I have owned a series of convertibles, so really wanted a Boxster. Within a few weeks of our return I purchased this one at Pfaff. I drove it for all of three weeks before putting it into storage for the winter – that was tough!
I did the introductory school in spring 2018, then four driver-ed events in 2018 and 2019 (advancing to the Yellow run group) at CTMP. In addition we've done Tremblant once and Watkins Glen twice. I was hoping to move up to White by the end of this summer; with COVID 19 that's not going to happen, in the meantime this car is my daily driver and I am really enjoying it.
DAVID JOHANNESSON, 2008 Boxster S: As a lifelong car and motor racing enthusiast, Porsche has been at the top of my list for many, many years. However, being a professional musician, it would always have to be a second car since I needed space for hauling gear.
I had looked for many years but never pulled the trigger. Then I did a car test with Peter Bleakney (a journalist as well as a guitarist, and SIG member) comparing the original series one Boxster with an all-new 718 (small engine, turbo). I quickly realized the earlier car was exactly what I wanted.
Pete advised going for the second-gen, which I did. Summer of 2019 I tracked down a lovely black 2008 Boxster S with fairly low mileage (less than 70,000 km) and finally made the move. I have not regretted it one bit.
I have driven quite a few 911 models (but) the smaller footprint and mid-engined layout of the Boxster was ultimately more appealing to me – a true pure sports car.
The six-speed box is excellent. And top-down the car nears perfection. A vintage feel with modern quality and performance.
It has surprised me how many people come up and react positively to the car – especially considering that I live in an area with no shortage of real exotics.
My wife loves the car too and we've taken some trips in it – a couple of small overnight bags and off we go. The onset of Covid really put paid to a lot of travel plans but driving down the back roads is still a superb way to 'socially distance.'
TED YOUNGS, 2009 Boxster PDK: A brief history – we lived in Toronto in the 1950's and 1960's. Involved with motorsport as BEMC members and shared in the building of Mosport.
A move to Kitchener, growing family (three daughters), then 26 years cruising the Great Lakes on our sailboat intervened. Around 2011 Fern and I convinced each other we were getting a little old for life on the water: always being Porsche enthusiasts, we started looking at Boxsters. We sold the boat in 2012.
Then Fern passed away in May, 2013, after 60 years of a good marriage. I acquired a 2007 Boxster at Pfaff that July, then decided PDK suited me better and found the 2009 at Pfaff in April, 2016.
I'll be 90 on April 20th. Arthritis is a nuisance, but they're still renewing my driver's license.
DAVE FERRIE, 2012 Boxster, commenting on the photo that appears in 'Introducing Ourselves': Ready for a new Porsche day at sun up. Boxster heaven. (The second car, behind the 987, is an '88 911 Targa.)
CHRISTINA MANDRI, 2013 Boxster S: Since I was young I wanted a Porsche, I even gave a class speech on Porsche (pretty sure half the class fell asleep). I remember that when I saw a Boxster I loved it – and always thought they were so well designed and handled amazingly. I saw one with a red interior and, red being my favourite colour, I was drawn to it.
When I saw this 2013 Boxster S come in on trade at Porsche London (ed – where Christina works as a Brand Ambassador) I purchased it the same day. I didn't want to miss out. Not only is my Porsche amazing to drive, the people who I've met and join for drives have been amazing too.
JERRY VERNHOUT, 2013 Boxster PDK: This is my first Porsche – a 2013 2.7 PDK in racing yellow that I bought used in Saskatoon in 2015 and drove back with my wife, Jackie. It had 5,000 kms on it then, and has 68,000 now.
The car has been flawless to date with only scheduled maintenance plus rear tires. I am retired and we like to tour: it's been to Florida for the winter a couple of times and we did an 8,000-kms trip to the American southwest last fall. My history includes a '78 RX7, '89 Taurus SHO, a '99 Miata and a 2004 MSM Miata with about 200 hp at the rear wheels. I did a few track days with the Miata, and one with the Boxster.
PAUL J. LAROCQUE, 2014 Boxster: I bought the car new from Downtown Porsche. I drive it all year although in the winter only on fair weather days and only locally. Love the top down in the summer – especially on UCR cruises.
JOHN TSOURNOUNIS, 2014 Boxster 981: I saw my first Boxster in 1997 while stopped in traffic and fell instantly in love. I remember saying out loud to myself, one day I'm gonna own one of those cars.
Well, as my retirement approached I made a definitive plan on how much I would budget for, steps to take to save some money over three years, how much I'd finance. I'd look for an excellent car with 40-50,000 kms on it.
Then in 2012 Porsche introduced the new, 2013 981. I fell in love again! I said What the hell, I'm gonna buy a NEW ONE! Took HOURS on the configuration planner before I arrived at Rhodium Silver with a red roof.
April 11th, 2014, I picked it up at Pfaff and have had amazing driving experiences since then. There is NOTHING like driving a Porsche and being a member of PCA UCR. Looking forward to the new driving season!
RON GOLDENBERG, 2014 Boxster: I photographed the 2014 Boxster the day I picked it up and drove it to the cottage: a 65th birthday present to myself. Been my daily driver every day, summer and winter, 67,000 kms and no problems whatsoever! Looking forward to sigboxster.
STAN SCHNAPP, 2014 Boxster S 981: This is my third Boxster, a 2014 981 Boxster S in Agate Grey with the rare and now discontinued optional Amber Orange leather accented with the carbon fibre option package.
My wife Isabel and I did the European delivery in June, 2014, from the factory in Zuffenhausen. We spent 16 days traveling down to Tuscany, returning by a different route to the factory for shipment to Toronto. I purposely waited until June for all of the Alpine passes to be open. The Stelvio Pass, Grossglockner and Susten did not disappoint. Best P-car for touring with top down and two trunks.
VINCE BORRELLI, 2014 Boxster 2.7: The vehicle has been all I expected and more. The Porsche reputation as a tight handling car is what I wanted. Taking corners with confidence and feeling passionate when driving. Adding in the Porsche Sport Exhaust gave it more of a sporty feel.
JOY SINGH, 2016 Boxster Black Edition: Our 2016 Black Edition was acquired on a whim while visiting Pfaff Porsche in the spring of 2018.
Their overnight test drive program really sealed the deal when Laura and I enjoyed a nice June evening driving around town in this black on black roadster. The mid-engined drop-top combined with the sport exhaust the previous owner had ordered from the factory – along with the Turbo design wheels – were too much to pass up.
Since then we've participated in and placed in the PCA spring and fall rallies, local 'fun runs' and picnics.
More notable drives have included a birthday ice cream run to Cleveland, and an even more memorable road trip to Texas through the Smoky Mountains (read Tail of the Dragon) via Louisville, Nashville and New Orleans.
The two storage compartments allow us each a trunk on the multi-day trips. Needless to say, we've been taking the unlimited mileage part of Porsche's CPO warranty very seriously.
Laura and I welcomed our daughter Finnley to the family in September; she's been out in the Boxster in her rear-facing seat installed securely on the passenger side within six weeks of birth, thanks to the weight-sensitive airbag activation switch.
I'm excited to continue this enjoyment and meet some of you Boxster SIG members – until our family completely grows out of the roadster and needs a four-seater Cabriolet.
PETER VOSS, 2018 718 GTSI really love my 718. What do people say now that Porsche has changed the model naming convention – Boxster or 718 Cabrio?
The power to weight ratio is really good and it is fairly light which allows it to be very tossable. Straight-line acceleration is very good especially using launch control.
But I tend not to use launch control too often – I've already had to replace one rear tire and dropping $1,000 a tire is not enjoyable.
Living here in Ontario convertible season is fairly short. But I will always have the top down if above 15 C. If no passenger, above 10 C and just have the heater going.
Sometimes when something is bugging me about work or anything else I will go for a drive. Makes the problems seem almost irrelevant.
It also turns a lot of heads as the only GTS Boxster in our area – well I have not seen aother in over two years. The lease is up next summer; I have a deposit down on a 911 Turbo Cab but I am not convinced I will get the 911 – I just love my Boxster.
KRISTIN BRULE, 2019 Boxster S: My dad drove me to school every day in a 928 and I've been hooked on Porsche cars ever since. I always knew I would buy a navy blue convertible one day and that day came last year.
I looked at used 911 cabrios but the opportunity to design the Boxster according to my expectations is what ultimately made me fall in love with the car.
I ordered the car in February, 2019. I loved that I was able to track the Maersk ocean liner via GPS that carried my car across the Atlantic to Halifax, then on to Oakville by highway car carrier. I took delivery at the end of May, 2019.
I like to drive open country roads. Although I'm not a speed demon by any measure, I do prefer to touch the brakes as little as possible! I only drive from May to October and store it covered in my garage in the winter. I'm thrilled by my car. It's fun, fast, responsive and handles like a dream. Pretty sweet to look at too!
JULIA AND RICK LAUR: We took delivery of our Carmine Red 2019 Boxster late last July – and only managed to put on less than 3K kms before putting it away.
This replaces a 2007 Boxster S we had since 2011. We try to enjoy as many UCR driving events as we can. One of our favourites is the Blue Ridge Boxster Summit, unfortunately cancelled this year.
A handful of us here around London gather to do some impromptu runs as there's always a craft brewery or a diner that's worth a visit. Looking forward to being part of this group!
MIKE BRYAN, 2020 Boxster 718 Spyder
After being blown away by my test drive in a 2016 Boxster Spyder and then dithering over buying it . . . until it was sold to someone else, I resolved to keep a lookout for the next generation of this amazing model.
About a year later Porsche announced there would indeed be a next generation, but with scant detail. What engine, how much power, what other evolutionary changes? And when would it be built?
All answers were purely speculative, but I had faith it would be even better than the 2016 model, so I rushed to my Porsche dealer and plonked down a deposit in November of 2017.
I followed every rumour. . .until I learned it would be announced at the Goodwood Festival of Speed in England in July of 2019. That gave me confidence it would also appear at Porsche Parade in Boca Raton just a couple of weeks later – and to my delight, it did.
As PCA members gathered around the unveiling of the new Spyder and GT4 in the banquet ballroom, exchanging oohs and aah, I took great pleasure in letting it be known I already had one on order, but still had no idea when the car would be built.
Finally in November of 2019 my dealer advised me it had received its allocation of 718 Spyder, and asked if I would like to firm up my order and 'build' my car.
For two months I played with the online configurator, adding, deleting, changing tiny details (with not so tiny price tags) until I arrived at my perfect specification – including European delivery. My final order was transmitted to Porsche AG in January and within a few weeks it was settled: Pam and I would pick up our new 718 Spyder in Zuffenhausen on May 15.
The pandemic changed the delivery date and eliminated any possibility of a factory visit. However, the completion date of the car didn't change much: by May 29th it was on board a ship bound for Halifax. At last, July 13th, over two and a half years after placing my deposit, I was invited to my dealer for the great unveiling.
The gleaming Racing Yellow work of art beneath the drape was every bit as stunning as I had hoped.
Driving it home, I could feel how well put together it was, so solid but light and nimble, so simple to drive, but so complex underneath. After 3,000 km of restrained driving to break it in, it was so much fun to let it run into the higher rev bands and really feel the capacity of this amazing car. I'm very glad to be a Boxster owner again!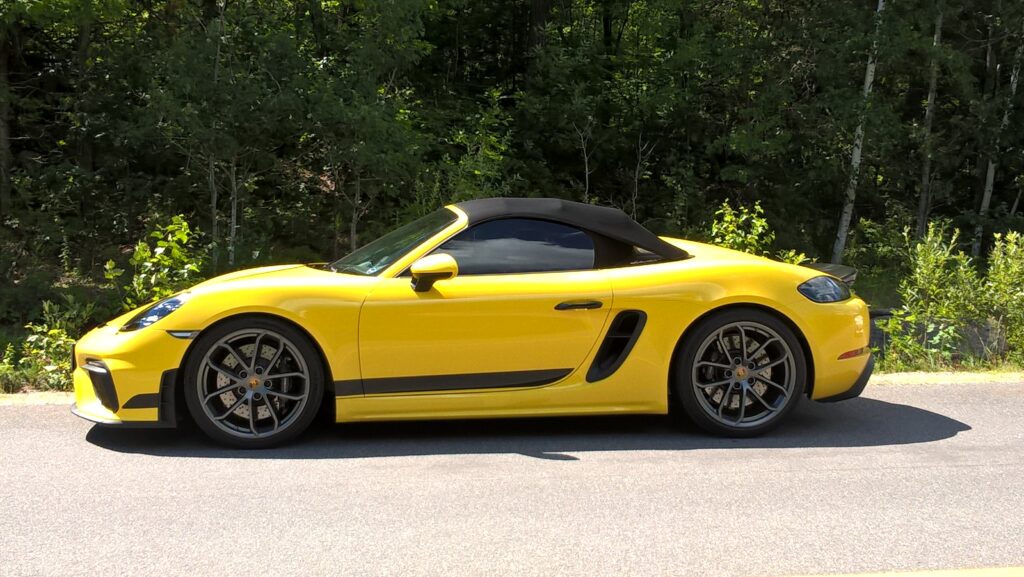 BRIAN AND LINDA MCGREGOR, 2021 Boxster GT4
Many years ago my wife and I ramped up from an '85 1/2 944 to a '87 944S and then a modified '89 944 Turbo S. I was heavily involved in the track life – I actually used to rent Shannonville and sell space.
Kids came and now have left so we started looking at a Porsche again. Started with nostalgia thinking of another 944 Turbo S but the more I read I became convinced a Cayman S was a more modern alternative. So, picked up a beautiful 2012 Cayman S Black Edition three years ago . . .
Then we went to Europe and rented a Mazda Miata RF (hardtop convertible) and touring Italy and Slovenia my wife discovered the joy of topless motoring.
I'd been watching the evolving Cayman/Boxster and was thrilled to see the introduction of the 4-litre engine. Since I'm no longer into the track life the GT4 didn't make sense. As much as I like the look of the Spyder I really didn't want to deal with the roof. As well, my Cayman was a PDK and although I can easily take a manual, I was quite satisfied with the PDK driving experience. I'd been dreaming of a new car and like so many people went through the online experienced of building a car for order. But I just couldn't get into the long wait times. . .
I just happened to do a search online for Boxsters and stumbled on to my car. The exact colour choice I had configured. Pretty much every option I would have specified. In stock in Canada, available for purchase. I figured fate had smacked me on the back of the head. With the rarity of these cars these days, how could I have found it? How could I let it go? I couldn't. Deal was done.
STAY TUNED FOR MORE TO COME, AS NEW MEMBERS INTRODUCE THEMSELVES AND THEIR CARS.